The head of Germany's federal criminal police force said that prosecutors are investigating a group alleged to be responsible for "Resistance Radio," a neo-Nazi Internet broadcaster. It is an offence in Germany to display or promote Nazi symbols and ideologies.
Twenty-two households were raided across Germany on Wednesday, most in the western states of Rhineland-Palatinate and North Rhine-Westphalia.
Seventeen men and six women were detained in the raid. The accused, aged between 20 and 37, are suspected of having been producers and presenters for the Internet radio station.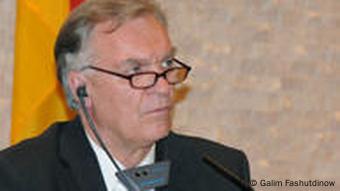 Ziercke said there has been a rise in the number of far-right websites
Police seized computers, hard drives and cell phones. They also found a number of weapons. The operation involved 270 officers nationwide.
Modernization of far right propaganda
The station had been under investigation since October 2009. It was broadcasting over the internet and played music from German and international skinhead bands, which included racist and neo-Nazi content.
There has been an increase in neo-Nazi groups using music and websites to try get their messages across to young people and recruit them to their cause.
"Recently the right-wing extremist scene has shown a clear tendency towards modernization in their use of strategies for advertising and mobilization," said Joerg Ziercke, head of Germany's federal criminal police force.
On Wednesday the site in question was no longer accessible on the Internet.
Author: Joanna Impey (AP, dpa, epd)
Editor: Michael Lawton