Achilles, the supposedly psychic cat, will turn his talents to the beautiful game's most prestigious event, the World Cup, after he predicted results during last year's Confederations Cup. The white feline, who lives in St. Petersburg's Hermitage museum, will make his predictions by choosing between two bowls of food, each bearing a team flag.
With the tournament scheduled to start on June 14, Achilles has been seen wearing a red soccer jersey and studying the competing teams and match schedules.
He is the latest in a long line of animals conscripted into the sports results prediction business. Eight years ago his World Cup predecessor Paul the Octopus became a worldwide phenomenon after accurately predicting the winners of all of Germany's matches at the 2010 World Cup.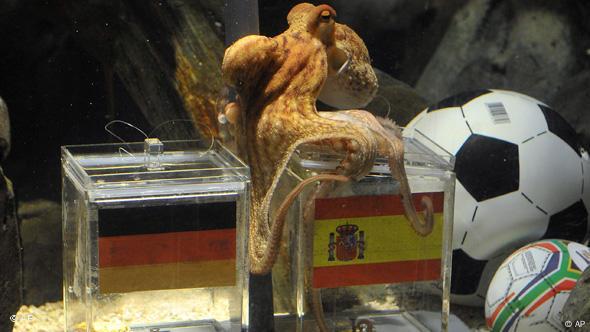 Paul the Octopus accurately predicted the outcome of all of Germany's matches in 2010
Paul, who has since passed away, communicated his insights by choosing between two glass boxes of mussels — one with the German flag and the other bearing that of the opposing team. The case he opened first was deemed to be his predicted winner.
Other animals with 'psychic abilities' at sporting events
During the Euro 2016 in France, Leipzig Zoo put forward a koala named Oobi-Ooobi to predict the outcome of soccer games. Nelly the Elephant from Lüneburg Heath in northern Germany made predictions by shooting a soccer ball into two different goals. Hitting the goalpost assigned to the opposing team apparently meant Germany would win their next match. Momario, a tortoise from Schleswig-Holstein, had to choose between national flags made of green leafy veggies. Armadillo Taka from Erfurt chose winners by eating boiled chicken skin.
The 2018 World Cup in Russia will be played out at a total of 12 stadiums between June 14 and July 15.
Each evening at 1830 UTC, DW's editors send out a selection of the day's hard news and quality feature journalism. You can sign up to receive it directly here.
kw/sms (AFP, Reuters)