Brazil's thick rainforest can hide many things, including people.
Near the border with the northwest Peruvian state of Acre, a tribe of undiscovered Indigenous Amazonians recently made contact with employees from Brazilian Indian agency Funai (Fundacao Nacional do Indio or Brazil National Indian Foundation). An employee from the agency spoke a language related to that of the tribe, and could communicate with them. Fortunately the group managed to film the unexpected encounter and uploaded the video to the Internet.
The event was particularly unusual as these people normally avoid contact with others. Tribe members have tended to be outwardly hostile to all non-indigenous people.
Their apprehension is due to numerous previous negative experiences with illegal loggers or drug producers, who have killed members of tribes. Civilization itself poses another threat. Illnesses like influenza or measles could spread like wildfire among people whose immune systems are unused to outside pathogens.
In late June, a report was posted on the website Terra's "Amazon Blog" that three young men from the Ashaninka Indian village had emerged from the rainforest near the Peru-Brazil border. They were later joined by another two men and two women, estimated to have been between 12 and 21 years old. About a month later, Funai posted the video.
Reports of violence
At DW's request the Funai agency confirmed that the isolated group had talked of a massacre. "They said they were victims of violence. These were committed on Peruvian territory," reads the statement. Probably the indigenous people fled into the Brazilian territory, to save themselves from illegal loggers in the Peruvian Amazon.
The news stirred up bad feelings. The non-governmental organization , who work to protect indigenous people, called for urgent action from the Brazilian and Peruvian governments.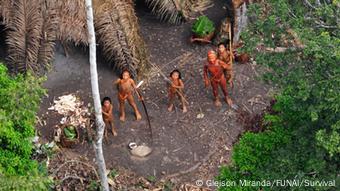 There are thought to be some 100 uncontacted peoples across the world
"Uncontacted indigenous people are the most vulnerable people in the world. They are totally dependent on the land for their survival," writes Survival International in a statement.
Linda Poppe, chief coordinator with the organitation in Germany, added. "If we can't ensure their human rights are protected then what can we do? These deaths of these people will go unnoticed."
Avoid contact
The Brazilian government's protection agency, Funai, is also on alert. A guard is on watch near the area, but this post is notoriously dangerous, with reports of threats from illegal drug traffickers. "Our protection strategy works under the premise that there will likely be no contact. The tribes people can always come to us. But the onus is on them to approach us," Funai told DW.
Activist group Survival International think there are about 100 uncontacted peoples worldwide. "How many people there really are, we just don't know," said Linda Poppe. The highest concentration of uncontacted indigenous people is in the Amazon area, with around 70 people already registered. Local authorities are usually aware of such people, and often find remnants of their houses or weapons.
But the biggest threat for these people is the rapidly shrinking rainforest. Even indigenous people who are in contact with civilization continue to report illegal logging activity. The survival of these people depends opens the survival of the equally fragile Amazon forest.