Cincinnati has many features to be proud of. One of them is that Cincinnati is home to one of the largest concert halls in the United States, a concert hall with a German history that is. In the 19th century, it was German immigrants who built a music hall in the part of town which is called the "Over-the-Rhine" due to all the German immigrants who used to live there.
Today, this is where Erich Kunzel conducts the Cincinnati Pops Orchestra . Pops stands for popular. And that's what Kunzel and his troupe of 100 musicians are, at least in America anyway. In Europe, they are virtually unknown.
The Pops Orchestra was formed in 1850. The first Pops concert took place that same year with the Strauss family in Vienna. They played their own music as well as popular melodies of the time. But for some strange reason, the Pops didn't continue performing in Europe. They preferred North America instead.
"I hardly conduct Pops concerts in Europe, though often in Asia", says Erich Kunzel. That's why in Europe, maestro Kunzel is only known among music enthusiasts - even though he has already made over one hundred sound recordings with the Pops - everything from Bach to the Beatles.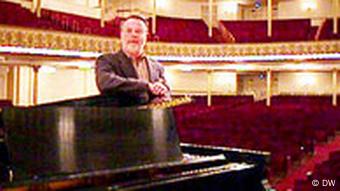 Erich Kunzel, German-American conductor in the Cincinnati Music Hall.
Erich Kunzel is a German with heart and soul: "I was born in New York City, but both my parents were born in Germany. My father was born in Plauen, in Saxony's Vogtland region, and my mother in Weingarten, which is close to Friedrichshafen on Lake Constance."
The first thing that comes to Kunzel's mind when you ask him about German songs is "Stille Nacht" or "Silent Night". And even though he usually celebrates Christmas with his Austrian wife in the Florida sun now, he still associates Christmas with German traditions.
When it comes to food, Kunzel loves old fashioned German recipes. One of his favorite dishes is Kaiserschmarrn, a sugared, cut-up pancake with raisins. Something else he likes is Spätzle, a homemade kind of pasta which his wife Brunhilde makes for him.
Erich Kunzel regrets the fact that his German is a bit shaky. He hasn't spoken the language for decades. His parents stopped speaking German around the house in the early 1940s. Shortly before the US entered World War II in 1941, German immigrants in America were often suspiciously regarded as Nazis. Because of these prejudices and stereotypes, many German Americans at that time tried to maintain a low profile. They wanted to be as inconspicuous as possible.
But Erich Kunzel, who was a child attending a regular American school at the time, once made a big mistake: One day in class, every child had to say its name and where it lived. But young Erich didn't say "My name is Erich Kunzel. I live on Costa Street", instead, he accidentally said these words in German because back then, the family still spoke German at home.
"I must have said something to that effect, because the teacher looked shocked when she heard me speak German", remembers Erich Kunzel. Such was the hysteria of the time that the teacher told the school principal about the incident, who in turn had a couple of sharp words with Erich's parents. The bitter consequence was that from that moment on, Erich's parents refused to speak German at home:
"From then on, my parents didn't speak German at home any more. When they spoke to me, they only spoke English. Of course, when friends and relatives came over, everybody would still speak German. But with me they only spoke English."
Erich Kunzel and the Pops orchestra have been performing at the Cincinnati concert hall since 1964. The place is usually packed and audiences enjoy the concerts tremendously. But Kunzel only came to be a conductor by coincidence.
When he was still going to school, Erich Kunzel played the piano in the school orchestra: "The conductor Ray Harrington was perpetually late for rehearsals", explains Kunzel. "Finally, one day I picked up the baton and said, let's begin. I began conducting, and that was it! If Ray hadn't come late, I guess I would never have become a conductor!"
Erich Kunzel has quite a number of German colleagues in the United States - Christoph von Dohnanyi, who conducts the Cleveland Philharmonic Orchestra or Kurt Masur conducting in New York. In addition there are German opera directors in Washington, Philadelphia and Louisiana. Germans feature prominently in American music circles. "It's probably just in our genes", smiles Erich Kunzel by way of explanation.