German Priest Alois Andritzki, who died at Nazi hands in Dachau, has been bestowed the title "Blessed" by the Catholic Church.
Andritzki, who was arrested by the National Socialists in 1941 for criticizing the regime and later murdered by lethal injection, was beatified Monday at the Dresden Cathedral in a bilingual ceremony in German and Sorbian, the language of the eastern German Slavic minority to which he belonged.
Roman Cardinal Angelo Amato read the papal declaration of Andritzki's beatification at a ceremony which drew an estimated 11,000 people, many of them in traditional Sorbian dress.
Dresden's Bishop Joachim Reinelt praised Andritzki in his sermon, saying the priest had showed a "bright face" even through the "most awful beastly work" at the Dachau concentration camp.
Saxony State Premier Stanislaw Tillich, who spoke at the ceremony in Sorbian, said Andritzki had "unshakably stood by his faith during the time of the inhuman Nazi dictatorship."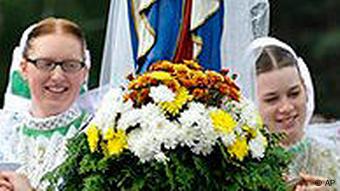 Andritzki has long been venerated by eastern Germany's Sorbs
Pope Benedict XVI, who approved Andritzki's beatification in December, honored the priest on Sunday during his noon prayer St. Peter's Square. Benedict said Andritzki remained an attestor to the faith even in times of great suffering.
Andritzki has long been revered by eastern Germany's Catholic Sorbs. Beatification is the third of the four steps in the canonization process.
Author: David Levitz (AFP, dpa, Reuters)
Editor: Mark Hallam