Demonstrators rampaged through Paris and other cities until early Saturday to express their rejection of Chirac's move, made in an address to the nation late Friday.
In the capital, protesters smashed store windows, damaged cars, threw bottles at police and attacked the offices of a member of parliament from the ruling UMP party during a march by more than 2,000 people across the city.
Police said 107 people were arrested and two police officers were slightly injured.
In a solemn address carried live from the Elysee palace on television and radio, Chirac said he would ratify the controversial measure but promised immediate modifications.
Chirac defends contract as Paris burns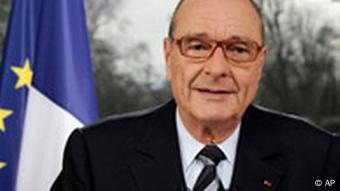 Protestors are calling for Chirac's head
"I believe the First Employment Contract (CPE) can be an effective tool for employment," he said. But he said he had also heard the "anxieties being expressed by many young people and their parents" over the contract, which allows employers to fire under 26-year-olds during a two-year trial period without explanation.
"That is why I have asked the government to immediately prepare two modifications to the law on the points which have been at the heart of the debate. The (trial) period of two years shall be reduced to one year. And if the contract is broken, the right of the young worker to know the reasons shall be written into the new law," he said.
Chirac said he would ask Prime Minister Dominique de Villepin -- who fathered the CPE -- to take steps to ensure that "in practice no contract can be signed that does not fully include these modifications."
Villepin met Saturday with heads of the centre-right UMP, whose leader in the national assembly Bernard Accoyer said later he would contact trade union chiefs "very quickly" to "relaunch dialogue" and prepare the new legislation demanded by Chirac "without prejudice."
France has been plunged into turbulence by the youth jobs row, with millions taking to the streets in protests that have sometimes descended into violence. Many universities have been closed for nearly a month, with growing tensions between pro- and anti-strike students.
French PM battling opposition in and outside parliament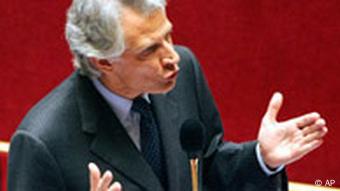 There is no place to hide for Dominique de Villepin
While Villepin says the CPE is vital for cutting youth unemployment -- which is more than 50 percent in immigrant-populated suburbs hit by riots at the end of last year -- opponents say it will erode hard-won labor rights and make it more difficult than ever for young people to find long-term jobs.
Commentators said the president was walking a political tightrope, caught between loyalty to Villepin -- with whom he has a close personal relationship -- and fears that the protests could spiral out of control.
But reaction to his complex solution from unions, student groups and left-wing politicians was immediately scathing and the opposition alliance -- which had urged Chirac not to promulgate the law -- promised to maintain a new day of strikes and marches for Tuesday.
Unions, protestors blame Chirac and prepare for long haul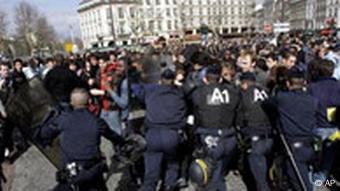 As Chirac announced his plans, violence again erupted
France's main trade union, the CGT, said Chirac had decided to "prolong the crisis," and warned of an expansion of the protests. Another major union, Force Ouvriere, described the president's intervention as "incomprehensible and unacceptable."
Socialist Party leader Francois Hollande said Chirac's address was "not a move toward appeasement."
Most French newspapers Saturday also lambasted the president's attempt to dissolve the crisis. "His promise of a second law ... is nothing more than a pathetic delusion," the communist L'Humanite said, while the leftist Liberation accused the president of "cynical calculation." Only the right-wing Le Figaro saw a "scenario for a way out of the crisis..."
Chirac's address was booed in the Place de la Bastille and other squares of Paris, where thousands gathered in the evening chanting slogans such as "Chirac resign!" and "Chirac piss off, the street rules!"
More violence as chaos lurks behind indecision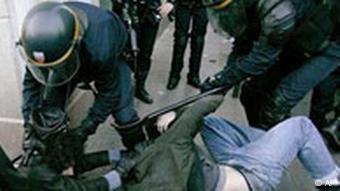 France is on a precipice overlooking anarchy
UMP Member of Parliament Pierre Lellouche said about 300 "hooligans" attacked his office during the night. The legislator said he was on the premises but was unhurt.
In the western city of Nantes police tear gassed about 300 protestors who tried to march on the UMP offices after setting fire to rubbish bins and erecting makeshift barricades in the city centre.