Zhang Yuhua came to Germany by train to study engineering in 1990, crossing the vast Eurasian continent on the Trans-Siberian Railway. During his mechanical engineering studies at the Technical University in Hamburg, he worked as a packer, aircraft cleaner, waiter, and whatever else he could find. "There are many opportunities in Hamburg, it's easy to survive," he told DW.
Read more: India, China, Germany: A world of rules on dual citizenship
Looking to build a good life, he stayed on after graduation, worked a lot of jobs and learned a lot of lessons. Ten years on, he started a business that supplies VW plants in Shanghai and Changchun with wiring harnesses.
As a successful entrepreneur, he wants to make it easier for Chinese compatriots to get a start in Germany, so he got involved in an association of Chinese entrepreneurs in Germany. He ended up becoming its manager two years ago.
"When you're new here, you're stumbling around in the dark: Where do I find an affordable office? Which authorities are important to me? Which accountant is good value for money? We're helping Chinese immigrants deal with these basic things, at no charge to them," Zhang says.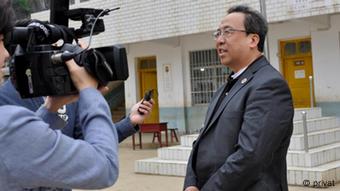 Zhang Yuhua, a Chinese entrepreneur in Germany, and spokesman for a Chinese business association in Germany, during a TV interview
The association was founded by the first Chinese entrepreneurs in Hamburg about 30 years ago. Among them were the Chen brothers, who had a business brokering jobs for young Chinese as sailors for European shipping companies. Other founding members had opened the first Chinese restaurants in Hamburg.
Read more: What the Chinese think of German food
Today, businesses run by Chinese entrepreneurs in Germany are much more diversified. Chinese immigrants are active in sectors like electrical engineering, chemicals, pharmaceuticals and the textile industry. The new generation has a higher level of education; a quarter of the association's more than 40 members has a doctorate.
A German-Chinese association
The German-Chinese Business Association (DCW), based in Cologne, is also celebrating its 30th anniversary this year. It was founded by some of the first German entrepreneurs who got involved in China, and felt the need to network and exchange ideas. Today, the DCW is no longer just German. Of 450 members throughout Germany, Chinese businesses now account for 20 percent.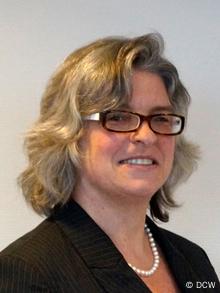 Silke Besser, head of a German-Chinese business association based in Cologne, Germany
"Among them are well-known names such as Huawei and ZTE, but also very small companies that have just launched in Germany," DCW's CEO Silke Besser told DW, although news media often focus on Chinese takeovers of German companies.
Read more: China emerging as Germany's main economic rival
The DCW informs its members about market-relevant news in both countries, using Chinese- and German-language bulletins. In addition, the association organizes various events at which members can get to know each other. Good contacts can be half the battle for business success; according to Besser, DCW has over 26,000 contacts with companies and organizations in both countries through its network of members.
Female and educated
Luo Hongbin started a new entrepreneurs' association in Hamburg earlier this year. Its special feature: Only females with a university degree may join. "On some issues, women can communicate better with each other, and a higher threshold ensures more commonalities and similar interests," Luo Hongbin told DW.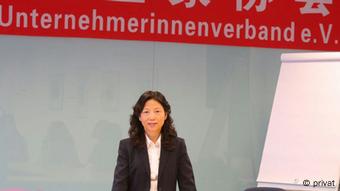 Entrepreneur Luo Hongbin in Hamburg. Luo has founded a club for Chinese women entrepreneurs in Germany.
She seems to have hit a nerve — within a short41478783 time, her club has gained over 40 members. It offers a platform to release steam and recharge positive energy. "Together, we want to make contact with female entrepreneurs in China, as well as integrate ourselves better in Germany," Luo says.
Unlike her compatriot Zhang Yuhua, Luo Hongbin came to Germany as an investor, not as a student. She founded Toolcraft Import-Export GmbH, and on the side she learned German and raised two children in Hamburg.
Paying taxes is patriotic
Zhang Yuhua's association also strives to improve members' cultural integration. For Zhang, a key aspect of this is tax honesty. Among Chinese people, cheating the tax-man has long been seen as normal — the priority has been to serve the family, not the state Treasury. A Chinese saying puts it as follows: "The main thing is being to bring home a hen in your left hand and a duck in your right hand," meaning: Bring home plenty of gifts for your loved ones.
Now, attitudes are changing, according to Zhang: "Even if we carry a Chinese passport, we must try to become good citizens in Germany. And the first civic duty is paying taxes honestly. After all, we too benefit from all the benefits this country offers."
Even after taxes, there's still plenty of room in the suitcase for chickens and ducks.