The Chinese Exterior Ministry said on Tuesday that it was "confused" by the comments made by Hans Elmar Remberg, vice president of the German Office for the Protection of the Constitution, the country's domestic intelligence agency.
"We decisively reject these unfounded accusations," an Exterior Ministry spokesperson said in Beijing. "We will apply for a clarification from the German government."
Remberg told a conference on industrial espionage in Berlin on Monday that the nature and frequency of the attacks on German companies pointed to a concerted targeting by Chinese hackers backed by the state.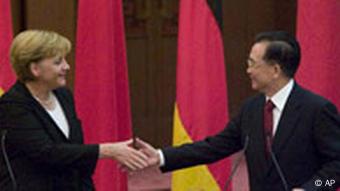 Merkel addressed the cyber row on her visit to Beijing
"In our view, state Chinese interests stand behind these digital attacks," said Remberg. "Supporting this view is the intensity, structure and scope of the attacks, and above all the targets, which include [German] authorities and companies."
Remberg's statements come barely two months after the German media reported incidents of cyber-spying at German government ministries by computer hackers believed to be linked to the Chinese army. The issue was raised by German Chancellor Angela Merkel when she met Chinese President Wen Jiabao in Beijing in August. China denied the allegations and said all "hacking" behavior was prohibited.
Since the German reports surfaced, other countries, including the United States and Britain, have admitted that their own government agencies have been targeted by hackers backed by the Chinese state. The growing number of allegations thrown China's way has prompted some to speculate whether a new front of warfare is beginning to open up between states, via the Internet.
Chinese cyber-war theory addressed
This belief was addressed by Remberg at the Berlin conference, but he refused to say whether he thought China's use of spying technology was part of an Internet-based international destabilization campaign.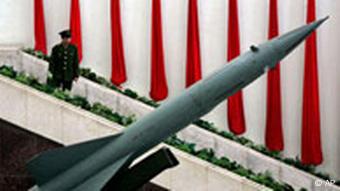 Military secrets are needed to advance China's forces
"Some people call this the Chinese cyber war," Remberg said, adding that it was important to differentiate between legitimate attempts to gather information on competitors by Chinese companies and state-led industrial espionage.
However, he was less reticent when it came to his assertions that China was behind the increasing numbers of attempted and successful breaches of Internet security in Germany.
"Across the world the People's Republic of China is intensively gathering political, military, corporate-strategic and scientific information in order to bridge their technological gaps as quickly as possible," Remberg said.
China's interest in industrial and government secrets, Remberg added, was driven by its desire to become a top global economic power. To catch up with the West, China needed "a massive transfer of high technology," he said.
Astonishing intensity of cyber-attacks on Germany
Remberg astonished the Berlin conference by revealing that attacks on German ministries and authorities were being discovered every other day and that the perpetrators appeared unconcerned that the attacks were being discovered. "Every one or two days, new attacks are detected," he said.
He also suggested that China was using classic espionage methods to launch its spy attacks, albeit with the latest technology. Traditional infiltration by agents still occurred, he said, but instead of the spies gaining access to government buildings in person, they now remotely accessed the information they needed from legitimate bases within Germany via the Internet.
"The diplomatic representative offices and Chinese media agencies in Germany enable the hidden deployment of intelligence agents," Remberg said. Firms in joint ventures with Chinese firms were also at risk, he added.
Spies of many nations after German secrets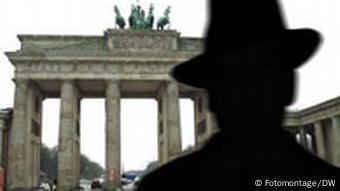 Spies from many nations are operating in Germany
As many experts have previously concluded, Remberg also said he was sure that the Chinese were not alone in hacking German sites. "Russian intelligence agencies are making great efforts in Germany to get important information, using both open and conspiratorial methods, in military, political, economic and scientific areas," he said.
Remberg also named Iran, North Korea, Pakistan and Syria as countries that had sent intelligence agents to Germany to procure "dual-use" machinery -- which can be used in both civil and military applications -- and know-how for illegal weapons technology, including nuclear technology.