Liao Yiwu, known for being an outspoken critic of the Chinese government, has been on Beijing's black list since the early 1990s, when he spent four years in jail for writing a poem about the 1989 massacre at Tian'anmen Square.
He told Deutsche Welle in a telephone interview that he was on his way to Frankfurt Monday when he was removed from the plane in the southwest city of Chengdu. Liao Yiwu was taken to the local police station, where he waited for some time before being picked up by four police officers.
"They interrogated me and protocolled it and gave me a transcript. They asked me where I wanted to go. I told them I was going to the literature festival, lit.COLOGNE, in Germany," said the 50-year-old writer. "They photocopied my lit.COLOGNE ticket and gave me a copy. Afterward, they told me I would not be allowed to go to Cologne."
Liao said he explained to the police officers during the three-hour interrogation that lit.COLOGNE was purely a literature festival and not of a political nature. He was told that "it was a national matter" and he would have to inform the Chinese authorities of his whereabouts.
Berlin vows support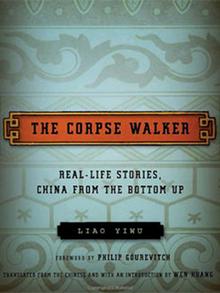 Liao's book will still be read at the festival
Monday's incident was the 13th time Liao has been blocked from leaving China. In October 2009, he was barred from taking part in the Frankfurt Book Fair, where China was the guest country.
Berlin was aware of the possibility that Liao's travel could be hindered once again.
"The German government has sought repeatedly and at a high level to enable his travel, unfortunately without success," Foreign Minister Guido Westerwelle said in Berlin. Germany would "continue to campaign for freedom of opinion and human rights in an open dialogue with China," he added.
The lit.COLOGNE festival, which runs from March 11-20, is a private event that combines classic literary readings with dialogue and discussion. As one of the largest literature festivals in Europe - 65,000 visitors attended last year - it would have given Liao a large platform.
This year's lit.COLOGNE organizers say the planned reading from Liao's book "The Corpse Walker: Real Life Stories: China From the Bottom Up" would take place on March 19, regardless of whether or not the author is present.
When asked what he will do now, Liao Yiwu said he couldn't do anything except wait at home: "I have nowhere to go. It is a despairing situation."
Author: Sarah Berning/Kate Bowen (AP, dpae)
Editor: Grahame Lucas/Rob Mudge