"The Dalai Lama is not simply a religious figure, he is a long-time political exile engaged in separatist activities," said Chinese spokeswoman Jiang Yu on Tuesday, Sept. 18. She added that China was against any contact with the Dalai Lama by any country's officials.
"We hope that Germany will consider the higher interest of Chinese-German relationships and not allow the Dalai Lama's visit," Jiang Yu said.
But there has been no change to Chancellor Angela Merkel's agenda since the Chinese request.
China has consistently spoken out against politicians' visits with the 72-year-old Dalai Lama, who has led a Tibetan government-in-exile in India since 1959. His advocacy for greater autonomy for Tibet has found great international response.
The statement from the Chinese government came in response to an announcement last week that Merkel would meet with the Dalai Lama on Sunday, Sept. 23 in Berlin. It will be the Nobel Prize winner's first visit to the chancellery, though he met with Merkel in 2005 while she was opposition leader.
Chinese protests haven't been heard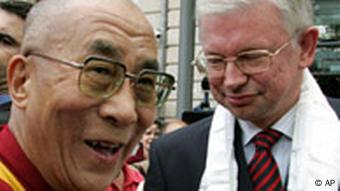 Koch, right, has met with the Dalai Lama, despite Chinese disapproval
Two of Germany's former foreign ministers, Joschka Fischer and Klaus Kinkel, have also brushed with Chinese disapproval by meeting with the Dalai Lama -- Fischer in 2005 and Kinkel in 1995.
Also to the dismay of the Chinese government, Christian Democrat Roland Koch, premier of the German state of Hesse, has developed a friendship with the Tibetan leader since their first meeting 20 years ago. It was Koch who brought the Dalai Lama and Merkel together in 2005, reported the online version of Germany's mass-circulation daily Bild.
German government spokesman Ulrich Wilhelm said Sunday's meeting was part of a series of private visits between the chancellor and religious leaders.
Human rights in Tibet, as well as German-Chinese policy issues were likely to be topics of the discussions, Wilhelm said. He added that Merkel also addressed the same issues with Chinese leaders.
"Tibet is a human rights issue that we have brought up with China," Wilhelm said.