Human rights organizations estimate the Argentine military dictatorship of the 1970s kidnapped and murdered about 30,000 people. Many of these people were parents, or about to become parents, when they disappeared.
As a result, one of the many scars left by the dictatorship is that thousands of children grew up without one, or both, of their parents. The efforts these children - now adults in their mid-30s - have made to come to terms with their past form a parallel to attempts the country as a whole has made to confront its recent history.
In the early 1970s, Osvaldo Mantello and his wife Maria Reyes worked in shantytowns near Buenos Aires, teaching those with no education how to read and write. The military government regarded them as subversives and kidnapped and tortured the couple. At the time, Maria Reyes was pregnant with their son. Maria was released after three months in prison; two months later, she gave birth to Juan Pablo. Osvaldo Mantello remained in prison, and was eventually murdered.
Children of the disappeared
Juan Pablo never met his father. When he was a little boy, his mother warned him not to tell his friends what had happened to his dad. At the time, many people were afraid the country would return to military rule.
It was only when he was in high school that Mantello started to tell his friends and classmates about his father's death.

"Classmates came up to me and asked things like, 'So your dad was a subversive?' You either had to explain a whole load of things or just get angry," he said.
At the time when Juan Pablo Mantello finally started to talk about his father's disappearance, a shift in Argentine society had become apparent.

"The first period was in 1983, with the return to democracy and the trials of the military juntas in 1985," Esteban Campos, a professor who specializes in contemporary Argentine history, told Deutsche Welle. "In the 1990s, there was a change in policy, and they pardoned the few members of the military who had been brought to justice."
Changing legal framework
Despite the pardons, the government acknowledged the violent legacy of the military regime in other ways. It started to allow the children of disappeared men to use their fathers' last names.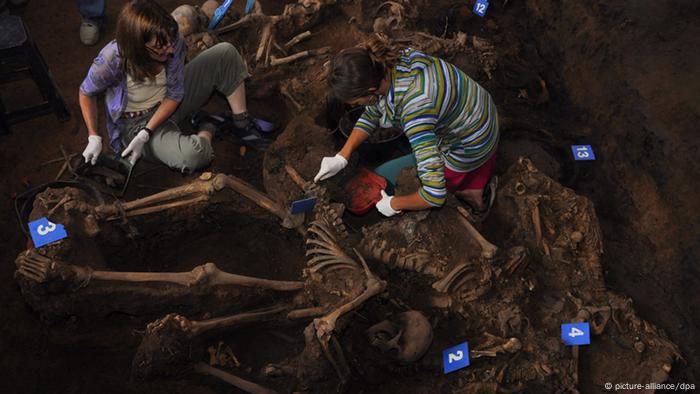 The Argentine Forensic Anthropology Team's work gives families closure
Previously, the only way to give a child his father's last name was assign the father the legal category of "presumed dead," Juan Pablo Mantello says. Then the government introduced the option 'forced disappearance' - the first legal step towards recognizing that the state had gotten rid of people. "When 'forced disappearance' became an option, we initiated the paperwork. It's only since I was 15 that I've had my father's last name," Mantello explained.
Mantello and his family were not the only ones who refused to describe their loved ones as "presumed dead." For emotional and political reasons, many people continued to insist those who had disappeared were still alive, said historian Esteban Campos, noting that it helped them in their struggle to obtain justice.
Over the years, human rights organizations demanded the "appearance, alive" of people who had disappeared - a means of keeping both the memory of the person and the struggle going.
Recovering lost history
30,000 disappeared people were never heard from again, and now friends and relatives are seeking the return, if possible, of their remains.
An NGO called the Argentine Forensic Anthropology Team is working to identify remains found in hidden and unmarked graves.
Two years ago, the organization found and returned Osvaldo Mantello's body. "The moment we recovered the body, we started to grieve. Before that, we weren't grieving for him, because, subconsciously, you keep on hoping," said Osvaldo's son, who praised the team's work.

"With each body they recover, a little piece of our lost history is recovered," he added.
As the search for lost bodies continues, so does the quest for justice. In 2004, the court cases against military commanders and their civilian accomplices were reopened, and many have received prison sentences for their involvement in repression and murder. Other trials are still ongoing.
Juan Pablo Mantello's mother, Maria Reyes, continued to teach classes in shantytowns for many years and now heads a school for homeless children. Juan Pablo first worked in his mother's school and now teaches cinematography in youth homes and prisons.
Together, they continue the work Osvaldo Mantello can no longer carry out.