Access to the rescued Chibok girls has proven to be very difficult especially for their parents. The Nigerian government says it is looking after the 103 girls because it wants to offer them proper rehabilitation. However, Hosea Tsambido Abana, chairman of the Chibok community, told DW, the arrangement may cause problems in the future.
"One of the indices of rehabilitation is having free access, especially to the people they were together with before the abduction," Abana said. According to him there should have been a way of meeting the girls once during their monthly community meeting. This would help to build a relationship and see whether they are ready to be assimilated into the community or not.
"Now they are kept under secured conditions. Parents can see them, but how long? Even if the parent came to [the capital] Abuja, they see them under security guard, they can't even talk freely with their own parents," Abana added.
Where should the Chibok girls stay?
On the other hand, some of the parents said that they were comfortable with their daughters being in the hands of the Nigerian government. Ruth Amos was one of the first girls to be released. Her Father Amos Mustapha initially complained about not being given access to her daughter. That has since changed.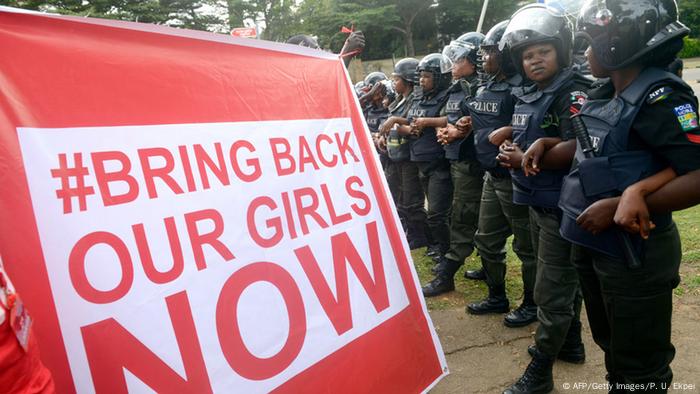 Nigeria's government says the security and well-being of the rescued Chibok girls is paramount
"They promised us that if they wipe out Boko Haram in three months, our daughters would come home, but they couldn't do so due to the security situation." Mustapha told DW. He said he had no problem with being given access to his daughter every three months. "Let them continue with their studies, so that we can all forget what happened in the past."
According to the Nigerian government the girls are in their custody with the full consent of their parents. Currently, Nigeria's Minister for Women Affairs, Aisha Jummai Al-Hassan is the one responsible for the freed Chibok girls. In response to the accusations that the government denied the parents' access to their daughters, Al-Hassan said that parents had been coming in and out to see the girls.
"We don't have to announce to people that the parents of the girls are coming, they come in and go at their own will." She said that the girls were staying at the center to do the programs willingly, and with the consent of their parents. "There is no compulsion. If any girl wants to go home today, she's free to go back. But all of them are happily staying here and undergoing the program." Al-Hassan said.