The American artist Heather Dewey-Hagborg first had contact with Chelsea Manning in 2015 when the whistleblower was serving a thirty-five year sentence for leaking classified information while working as a US army intelligence analyst in Iraq. But before the two had even messaged, sent letters or spoken, Dewey-Hagborg had received hair clippings and cheek swabs from Manning after they had been smuggled out of the prison.
Dewey-Hagborg, who has worked for several years with facial recognition technology and DNA-determined image making, had been commissioned to create an image of Manning since none existed after her gender transitioning began in 2013 — while she was still on trial as Bradley Manning.
This was the start of a collaboration that forms the centerpiece of this year's Transmediale festival at Berlin's House of World Cultures. The annual festival highlights connections between arts, culture and techonology by exhibiting a range projects connected to a theme chosen every year.
As part of the exhibition entitled "A Becoming Resemblance," Dewey-Hagborg and Manning have created an installation, "Probably Chelsea," comprised of thirty 3D printed masks. The artist describes it as a sample of "possible portraits" derived from a sample of Manning's DNA that aim to liberate her subject on several fundamental levels.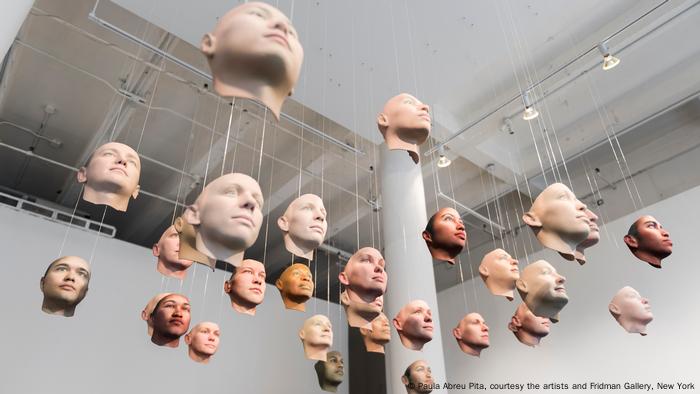 The many DNA faces of Chelsea Manning: a view of the installation, "Probably Chelsea"
Revealing Chelsea
"I first talked to Manning in 2015 by reading her DNA," Dewey-Hagborg told DW. The artist had been contacted by Paper Magazine in New York to produce a depiction of the whistleblower to be published alongside an interview conducted with Manning via mail by artists and activists including Jacob Appelbaum, who — like Manning — has worked with Wikileaks.
The reason? After entering a male-only military prison, Manning's image was effectively censored and policed via a harsh visitation policy. According to Dewey-Hagborg, at the time no one had actually seen Chelsea Manning.
Having already received samples of Manning's hair and cheek, Dewey-Hagborg worked to create an image based on the same DNA-determined image making she had used for a controversial portrait series, "Stranger Visions," in 2012.
Collecting cigarette butts, discarded chewing gum and fingernail clippings in the streets, public bathrooms and waiting rooms of New York, the artist produced a series of potential images of those who had unwittingly provided her with source material. Having developed a special technique of extracting DNA from such scraps and waste, Dewey-Hagborg sought to draw attention to what she calls "the genetic vulnerability of the body and how we shed genetic traces all the time."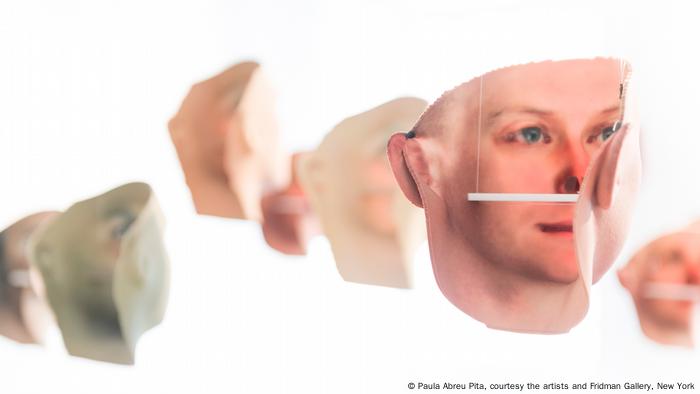 'Probably Chelsea' aims to redress the biases of 'DNA snapshots'
Combating DNA profiling
In 2014, two years after Dewey-Hagborg began "Stranger Visions," a company in the US started offering "DNA snapshots" to police that used similar techniques. But the artist soon became critical of the tool's limitations and biases, such as a tendency towards racial profiling.
As Dewey-Hagborg began to question her own processes, she recalls that Manning announced she was concerned about appearing too masculine in the media. The invitation to collaborate thus marked a moment where separate events coincided at just the right time. Dewey-Hagborg realised her DNA-derived portraiture techniques could give Manning a face and a form of media representation that she had been denied.
Manning and Dewey-Hagborg together became particularly concerned with exploding identity categories and "pushing against the stereotyping that is really implicit in these tools." They initially collaborated to produce two digitally rendered portraits — one female, and one gender neutral whereby the sex parameter was excluded from the DNA imaging process.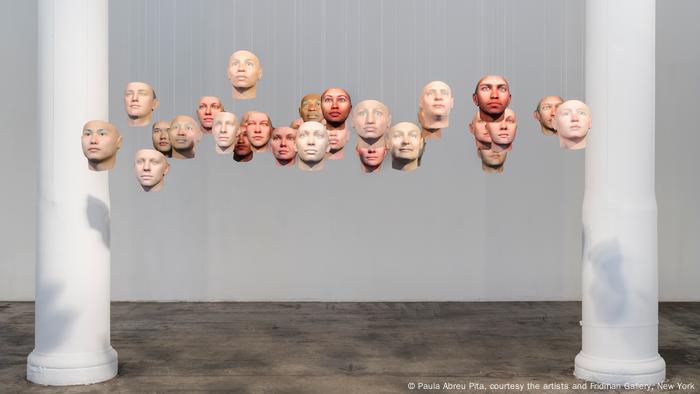 In "Probably Chelsea," facial representations of the same DNA are ambiguous in terms of gender and race
For Probably Chelsea, the possible expressions of Manning's DNA therefore explore a range of potential representations. The faces, which are invariably gender ambiguous, also appear to suggest a diversity of races. While many of the masks have Chelsea's blue eyes, Dewey-Hagborg claims that the ability to pick eye color, often thought to be the most reliably determined genetic trait, is only around 60 percent accurate.
Dewey-Hagborg and Manning's collaboration speaks literally to Transmediale's 2018 theme "Face Value," which probes the "current values that have contributed to our present moment of extreme political, economic, and cultural divides."
Walking free
Manning and Dewey-Hagborg have also teamed up with the illustrator Shoili Kanungo to produce a speculative comic,"Suppressed Images" (2017), which also features as part of the "A Becoming Resemblance" exhibit at Transmediale.
The comic envisions a future in which the US president at that time, Barack Obama, commutes Manning's sentence. Incredibly, only hours after it was published in January last year, Obama did indeed slash twenty-eight years off Manning's sentence. The whistleblower walked free in May.
Ever since Manning posted a photo of herself (below) following her release that went viral, she has become an iconic symbol of free speech, social justice and gender equality.
The activist also seems poised to enter the current political arena after it was recently revealed she had filed documents to run as a Democratic candidate.
'Molecular solidarity'
When asked to comment on the wide range of representations that could be derived from the same sample of Manning's DNA, Dewey-Hagborg offered that each face exhibits a "molecular solidarity."
She explained that we might see ourselves reflected in the many possible expressions of Manning's DNA. Rather than emphasize difference, they instead reveal what we all have in common.
"A Becoming Resemblance" opens at Transmediale on February 1 and runs through February 4, 2018.