The walls are high in this suburb of Grozny, the capital of Chechnya. Yet, residents keep no secrets. People know each other and help each other the way they have for generations. Nevertheless, there is one thing that neighbors don't like to talk about: missing youths.
No one knows exactly how many young people have left. Each one is one too many.
Petimat Salamova remained silent behind the walls of her home for four whole years after the disappearance of her daughter. Now she has broken her silence about Salina, who left home to follow her husband, Ruslan.
He went to Syria to fight for the "Islamic State" (IS). Salamova doesn't know why he left. "But he was a good boy," she said. "He always helped around the house. He was religious. I don't know what he was looking for in Syria. I think he was tricked. Those evil recruiters tricked him. It's their fault."
"He took my daughter and their three children," Salamova said. "I know that Ruslan isn't coming back because he was killed last March."
According to official numbers, up to 800 adult Chechens are fighting for the terror organization; the real total is likely much higher. Some of the youths who have left are listed as missing, but authorities don't even know that many of them are gone. That is what Said Mashaev told me. He returned and officials never even knew he had left.
Why do so many young Chechens join IS? The terror researcher Elena Suponina, of Moscow's Russian Institute for Strategic Studies, gave a number of reasons: "High unemployment, social dissatisfaction and unfulfilled hopes drive many in the region to one of the most perverse forms of Islam in existence — into the hands of jihadis."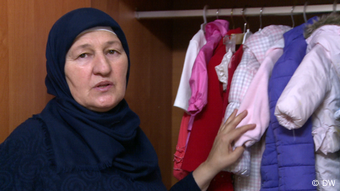 Salamova says her daughter and her husband took their children when they left
'A vacuum cleaner'
The Moscow-based independent military commentator Pavel Felgenhauer said a coordinated effort by Russian intelligence services ahead of the 2014 Sochi Olympics could have something to do with the exodus. He said security measures at the time forced "massive numbers of extremists out of the country, and they were sucked up by IS like a vacuum cleaner." But, he said, now that the group has lost almost all of its territory, "that vacuum cleaner is blowing in the other direction and threatens to spit out terrorists."
It seems that recruiters have an easy time enlisting fighters from Chechnya and neighboring republics in the Caucasus despite the fact that the state monitors citizens through the intelligence services — and despite the demonstrative loyalty that Chechen leader Ramzan Kadyrov has shown to Russian President Vladimir Putin.
Chechnya, which was rebuilt with Russian cash after the bloody wars of the 1990s finally ended, has become a hotbed of religious fanaticism. The republic's leadership refuses to acknowledge that fact. Kadyrov even went so far as to claim that there are no Chechens fighting in Syria, saying the terrorists had simply forged Russian passports.
The former fighter Mashaev had a different take: "We Chechens are very popular in the IS. We have a lot of fighting experience."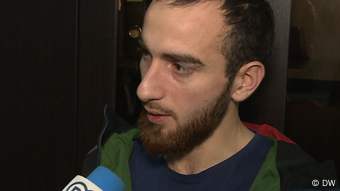 Gadshiev said IS appreciates Chechens' fighting capabilities
800-member support group
Mashaev said he had no idea that he was joining a terrorist group. He claims that he wanted to defend the honor of Syrian Sunni Muslims in the name of Islam. Chechens are largely Sunni. Asked if he carried a weapon in Syria and if he killed anyone, the thin young man from Grozny said no. After a short pause, he added: "At least not that I know of."
He said he decided that he had to get out of Syria after being forced to watch as his comrades beheaded a group of Shiite men one morning. However, Mashaev wasn't able to escape for months. Following an injury that required medical attention, he was allowed to travel to Turkey. From there he fled to Grozny. At first, he was able to go undetected. But at some point authorities learned where he had been. He then turned himself in and spent eight months in prison.
Now Mashaev is sitting with the distraught mother Salamova in a small office in Grozny. This is where a support group for relatives of missing children, siblings and grandchildren meets. The group now has about 800 members: people from Chechnya, Dagestan, Russia and elsewhere. Here people can talk openly about their missing relatives.
Asked if she is angry at men who go to Syria and take people like her daughter and her now-dead son-in-law with them, Petimat Salamova said no: "Everything happens according to Allah's will."
For now, she cries and hopes that Allah will let her daughter live.