Citing Turkish intelligence sources, US Representative Michael McCaul, the chairman of the House Homeland Security Committee, said the Chechen Akhmed Chatayev was behind the attack that left 47 people, the assailants included, dead in Istanbul on Tuesday.
The 35-year-old was an important recruiter for extremists in Europe.
In the early 2000s, Chatayev had fought Russian forces in the second Chechen war. In 2008, a Russian court sentenced him to prison in absentia for his membership in an illegally armed group. However, Chatayev's political asylum in Austria, which he was granted while on the run from Russia in 2003, prevented his extradition.
Known as the "one-armed man," Chatayev claimed in the asylum application that he lost his arm from injuries suffered while being tortured; other information suggests that it was amputated following a battlefield injury.
Chatayev was arrested in Sweden in March 2008 and spent one year in prison there for possessing weapons that had been found in a car he was using with other Chechens.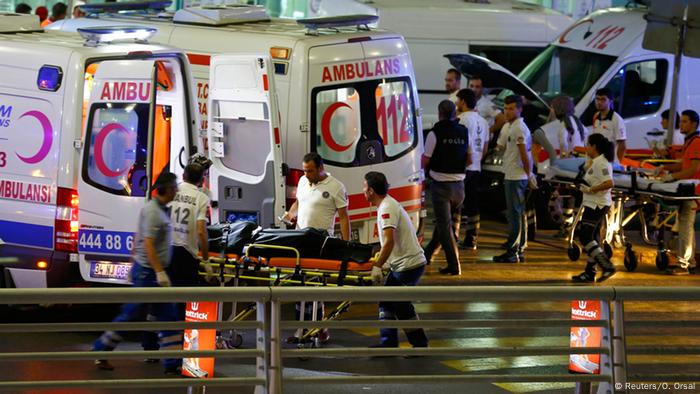 Tuesday's attack also injured more than 200 people
Arrested, never extradited
Chatayev had been twice arrested at the behest of Russia: first in Ukraine in 2010 and again a year later on the border between Bulgaria and Turkey. However, his refugee status continued to prevent his being sent to Russia. Human rights organizations, including Amnesty International, worked on his behalf.
Even Georgia did not extradite Chatayev after he was arrested for possession of two grenades. He was released a few months later in exchange for a monetary payment.
Chatayev joined "Islamic State" in Turkey in 2015, according to Russian security forces. In October, the UN Security Council placed him on a sanctions list after it became apparent that he had been training Russian-speaking fighters for IS. The Security Council recommended that his finances be frozen and a travel ban be put in place.