For those who grew up watching movies in the 1980s, Matt Dillon will forever be associated with the likes of classics such as "Drugstore Cowboy" and "Rumblefish." And although that lends him a degree of kudos, does it give him the gravitas needed to draw attention to a human rights issue that has long hovered on the periphery of international consciousness?
This week, following a visit to a Myanmar camp housing the country's persecuted Rohingya, Dillon (pictured above in Myanmar) spoke of heartbreak and suffering, and said the Muslim minority was being slowly strangled. "They have no hope for the future and nowhere to go," he told reporters after his two-day visit.
Spurred to travel to the Southeast Asian country after hearing activist Thun Khin speak in Washington, the actor said he was glad to use his voice to draw attention when he sees suffering. "I'll do that any day of the week. I'm happy to do that."
But does a name, a face or a personality – however well-known, beautiful or en-vogue – guarantee a serious impact?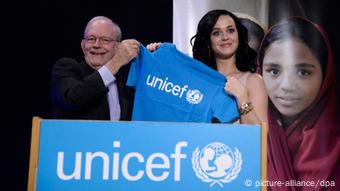 UNICEF Goodwill Ambassador, pop singer Katy Perry
The United Nations International Children's Emergency Fund (UNICEF) was the first international organization to appoint goodwill ambassadors, and got the ball rolling with Danny Kaye, and the iconic Audrey Hepburn. Since then, the agency has worked with a long list of public figures, which currently includes the likes of Katy Perry, David Beckham, Leo Messi, Shakira, Orlando Bloom and Liam Neeson.
Marissa Buckanoff, UNICEF Chief of Goodwill Ambassador relations, says working with high profile individuals offers the scope to reach tens of millions of people that might otherwise have remained inaccessible.
"When an emergency strikes, social media messages or a PSA can help amplify the voices of children living through those situations and generate vital awareness and donations for UNICEF's emergency work," she told DW.
Behind the glitter
But Martin Scott, author of "Media and Development" says getting a star on board is not a guaranteed recipe for success.
"There are instances when the appearance of a celebrity allows a cause to draw attention it might not otherwise get," he told DW. "But certain things have to line up." Those, he said, include the perceived authenticity of the celebrity, their relation to the issue in hand, and how it sits in the news agenda.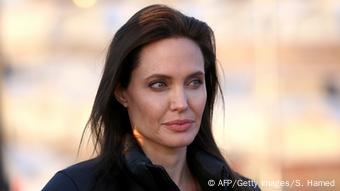 UN human rights ambassador, Hollywood actress Angelina Jolie
"Angelina Jolie might get Syria into the news on one occasion, but not manage it two weeks later," he said.
Indeed, he argues that the number of cases where celebrities have failed to draw attention to the cause they are championing far outweigh the success stories. "We just don't see them."
Other defining factors are having a campaign that stands on its own merit, and location.
"Internationally, attitudes to celebrity vary enormously," Daniel Brockington, author of Celebrity Advocacy and International Development, said. "What works in the UK will be different to what works in South Korea or in Europe."
UNICEF believes in the power of mutual and long-term commitment, and not what Buckanoff describes as a "quick PR moment." She says many of their goodwill ambassadors are "enormously generous" with their public platforms.
"Shakira has personally developed and promoted two baby showers for UNICEF on her social media platforms in order to raise awareness and funds for early childhood development."
'Minority interest'
But perhaps the most decisive factor is that celebrity is what Brockington describes as "a minority interest". Evidence points to women between the ages of 18 and 35 as the main consumers of international gossip. But they, the writer continues, are interested in celebrity affairs because it is neither serious nor political. "So they are not interested in celebrity advocacy."
Conversely, the number of actors, musicians and sporting figures willing to put their names to noble causes appears to be increasing by the year. The pages of "Look to the Stars and Oxfam's ambassador program read like guest lists to the Golden Globes or the Grammies.
So, if their success is so limited, which is neither good for the cause or the star in question, does it make sense to combine them at all? Brockington says yes, because really well targeted celebrity advocacy can be incredibly effective.
"A clear conclusion that came out of my work is that one of the areas where celebrity endorsement works really well is with political and corporate elites," he said. "There, you have personal encounters, which mean you ask for your policy change or your large donation."
All about perception
That is not to say the public doesn't play a role in upholding what has become a vast operation involving charity liaison officers and celebrities' agents. But that role is surprising. Because although the majority of people in the UK, for example, appear not to be interested in celebrity advocacy, they think others are. "That," says Brockington, "gives it a perceived legitimacy."
And that, in turn, is an engine. Martin Scott says the belief that celebrities matter is what generates media attention, which is one of the desired effects.
"The fact that we think they matter – even though the circumstances in which they matter are far more complicated - drives policy makers to respond."
By the same token, he cautions against over emphasizing the role of celebrities, quite simply, he says, because there are so many examples of campaigns that speak for themselves, and don't need a star to do it for them.