The Organization for Security and Cooperation in Europe (OSCE), which sent election observers to Georgia, initially said the Jan. 5 presidential vote met international standards. But problems with the election continue to surface.
A preliminary OSCE report said there were incomplete voter lists and that some people complained of intimidation. It also appears that there was also voting fraud, the head of the OSCE observer mission said Thursday, Jan. 10.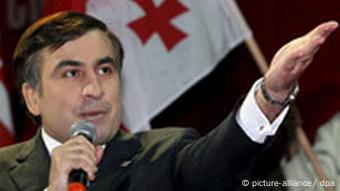 Saakashvili won a majority of the votes, the election commission said
"There was crass, negligent and deliberate falsification during the vote counting," German diplomat Dieter Boden said in an interview published in the Frankfurter Runschau newspaper.
Not only did OSCE observers report incidents of fraud during Saturday's vote, but conditions at Georgia's Central Elections Commission were "chaotic," Boden said. On Wednesday, Georgia's election commission annulled the results from four precincts because of fraud.
Russia, which opposes the ex-Soviet republic's attempt to join NATO and integrate with the West, expressed doubt about the early positive assessments of the election's fairness.
President-elect looks forward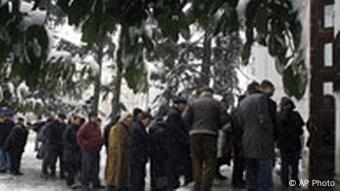 Some results have been invalidated due to fraud
The controversy hasn't stopped Saakashvili, 40, from claiming victory. The pro-Western president, who came to power after Georgia's 2003 Rose Revolution, won an outright majority with 52.21 percent of the vote. Opposition leader Levan Gachechiladze, also regarded as a pro-Western politician, won 25.26 percent.
The Jan. 5 presidential poll was called a year early due to violent unrest in November in which police clashed with protestors and the authorities shut down the main opposition television station.
Saakashvili said in his television appearance earlier this week that the election "demonstrated the will of the Georgian people."
But he also promised to work with opponents.
"No one can ignore the opinion of people who did not vote for us," he said. "We have to find consensus."
Opposition not conceding defeat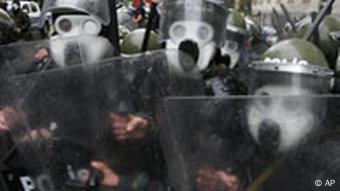 Unrest led to an early election in Georgia
Even before the election was held, the opposition has claimed the vote was rigged and is now demanding a runoff election.
Tina Chidascheli, a Gachechiladze supporter, said approximately 6 percent of all votes, or about 110,000, seemed to have been falsified in favor of Saakashvili.
About 300 opposition supporters carried placards reading "I don't believe," Wednesday outside the headquarters of Georgian Public Television. The opposition will continue to file court challenges and complaints with the Central Election Commission, Levan Berzenishvili, a leader of the Republican Party, which supports Gachechiladze, told AFP.
"We will choose other forms of protest only after all judicial methods have been exhausted," he said.