The Champions League will be how Bayern Munich's season will be defined and perhaps it will even define the era of departing coach Pep Guardiola at the club. An eight-point lead at the top of the Bundesliga has all but secured the championship for a fourth consecutive season. Bayern could still face trials in the German Cup, but what the team and its fans really care about is how they fare in Europe's premier club competition. On Tuesday, they can take their first step towards the quarterfinals by getting a result in the first leg of their round-of-16 tie away to Juventus.
History is in Bayern's favor - they are the only foreign team to win at Juventus in the past decade and have won their last three encounters against the 31-time Italian champions. So far, amid an injury crisis and reported discontent in the camp, the German champions haven't stuttered domestically. Juventus, however, provide an entirely different challenge for Guardiola's side.
"It'll be crucial to score a goal. That would help us in the return (leg)," said Thomas Müller who scored a decisive double on Saturday to beat Darmstadt. "We failed to make the best use of our chances, which is what caused us problems. We have to deliver a different performance against Juventus."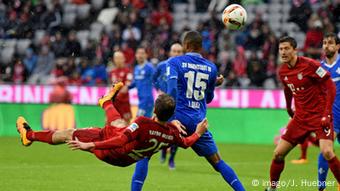 Müller's acrobatic efforts saved Bayern against lowly Darmstadt
Injuries are still a problem for Guardiola, whose defense has been ravaged since the winter break. Jerome Boateng, Javi Martinez and Holger Badstuber are all ruled out for Tuesday's clash, but Medhi Benatia has traveled to Turin as part of the 21-man squad. In the first serious test of the year, Guardiola will need to patch together another small, makeshift back line as he has done for several weeks.
Joshua Kimmich has been excellent for Bayern recently and has yet to taste defeat since his inclusion at center back.
"We have confidence in them both," answered sporting director Matthias Sammer when asked about Kimmich and the peerless Austrian David Alaba. Guardiola would prefer not to deal with a defensive crisis when facing a side boasting attacking talent like the precocious Paulo Dybala and the impressive Paul Pogba.
Juventus, who have had an extra 24 hours to recover, are flying high at the moment and the Catalan coach, whose team lost to Real Madrid and Barcelona in the Champions League semifinals in the previous seasons, is facing perhaps the biggest test of his three-year-stint in Germany.
"We know we need the best performance of the players, staff and coaches," Guardiola told reporters.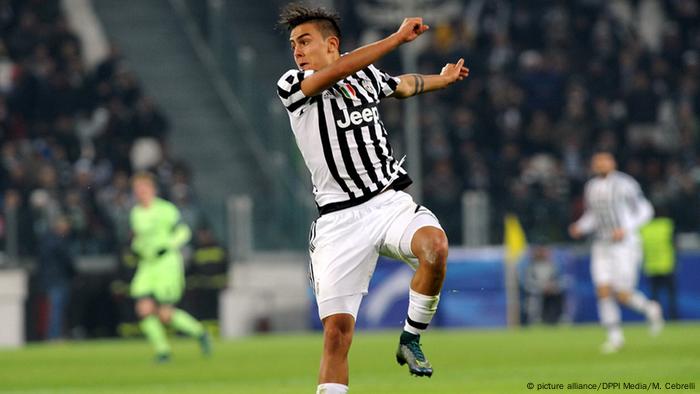 Dybala has 13 Serie A goals for Juventus this season
Italy's powerhouses
The appointment of Max Allegri as head coach in 2014, left many Juve supporters underwhelmed, particularly in view of his previous struggles at AC Milan. But Allegri proved the doubters wrong in his first season at the club, cantering towards another league title and leading his side to the Champions League final - a feat that Antonio Conte, his popular predecessor, couldn't match.
This year, the "Old Lady" has made a remarkable recovery, after losing several key players - Andrea Pirlo, Carlos Tevez and Arturo Vidal - in the wake of the Champions League final. Juventus lost four of their opening 10 games to leave Allegri fighting for his job in the autumn.
But 15 wins and one draw from their last 16 games has propelled Juve back into the upper reaches of the Serie A table.
"We missed many things in the first half of the season," Allegri said in January, "but I was not worried because we changed so much over the summer."
In Serie A, Juve are in a dogfight with Napoli, who are looking for their first title since 1990. However, for the moment, Juve's attention is on translating their solid league form into a strong performance against one of the favorites for the Champions League title.
"We'll give it a good go and be ready for the battle," defender Andrea Barzagli said. The Italian, who spent two seasons with Wolfsburg, claimed that "it's crucial you come away with a good result in the first encounter," while former Manchester United left back Patrice Evra conceded that "Bayern are the favorites, but I've got plenty of belief in my teammates."