Bayern Munich 1 - 2 Real Madrid
(Kimmich 28' - Marcelo 44', Asensio 57')
Allianz Stadium, Munich
Bayern Munich aren't used to losing. They're certainly not used to losing six in a row. But that's how things stand against Real Madrid after the holders got the better of a nervy, injury-interrupted game where neither of these European giants showed their best side.
Bayern will now need at least two goals in the Bernabeu next Tuesday to stand any chance of progression or giving Jupp Heynckes the treble-winning send off so many Bayern supporters crave.
Both sides looked shaky early on as a string of knocks – one of which forced Arjen Robben off the pitch after eight minutes – affected the tempo and quality of the early exchanges. Both sides were uncharacteristically loose in possession and lacked any sort of cohesion.
While Bayern had more of the ball, Real gradually grew in to the contest and were close to taking the lead in the 23rd minute, when Dani Carvajal stung the palms of Sven Ulreich from the edge of the box.
But it was from another Spanish attack that the German champions took the lead. After Cristiano Ronaldo just failed to reach a right-wing cross, Real left-back Marcelo was caught up by the Bayern goalline. Ulreich quickly received a second ball and started an attack that eventually saw James Rodriguez find Kimmich in the acres of space Marcelo had left behind.
Kimmich galloped forward and, lacking a crossing option, fired a fierce but hopeful shot towards Keylor Navas' near post. The Costa Rican could only palm the ball in to the net and will regret leaving so much space for Kimmich to exploit.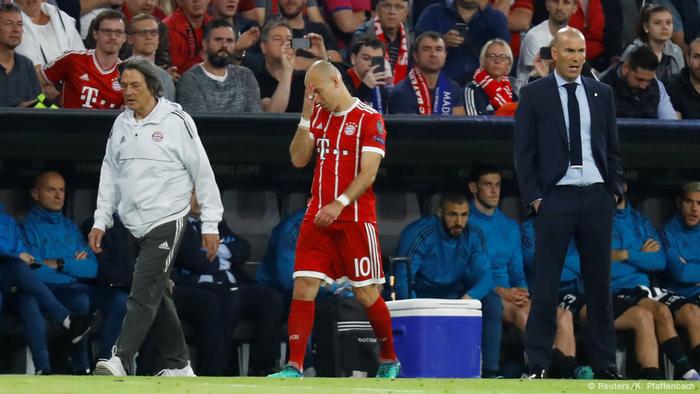 Arjen Robben was one of three Bayern players to depart injured. Javi Martinez and Jerome Boateng were the other two
Despite another injury, this time to Jerome Boateng, Bayern were starting to find their stride. Thomas Müller had a volley denied by a last-gasp block and Navas was able to punch a cross away from Lewandowski.
Then came the sucker punch. As a loose ball bounced around the box, Cristiano Ronaldo shaped to try an overhead kick before thinking better of it. But a cluster of Bayern defenders were drawn to the man who scored five against them in last season's quarter final and ignored Marcelo. The ball fell to the Brazilian and he fired it low and past Ulreich on the bounce.
It was another full-back responsible for the third, though Rafinha will not look back on his part in Madrid's second with any fondness. As a set piece was cleared, he had plenty of time to pick a pass but found only recently-introduced substitute Marco Asensio. The Spaniard drove from his own half, exchanging passes with Lucas Vazquez and pausing briefly before clipping past Ulreich with his left foot.
Again Bayern responded. Ribery continued to trouble Carvajal, who completed an eventful evening for full backs with a second half injury, but couldn't find a way past Navas. But Bayern's best chance fell to both Thomas Müller and Robert Lewandowski. The pair went for the same backpost knockdown, blocking each other's path as the goal gaped with the clock ticking down.
Lewandowski was denied by Navas in the final embers of the game but it was the mis-communication between the frontmen that summed up a frustrating night for Bayern in a game that lacked the quality expected from these teams on this stage. The German champions will need much more than this if they intend to turn around this deficit in Madrid next Tuesday.
As it happened
FULL TIME: That's it. A strangely low-quality semifinal first leg ends with the advantage firmly with the visitors. A horrible Rafinha error allowed Asensio to get the winner after Marcelo had equalized Kimmich's strike. We'll have a full match report here any moment, so stay tuned.
90+3 - A tired-looking Modric gives it away in midfield but Bayern aren't capable of making anything of it.
90+1 - In to four minutes of injury time. Bayern are piling players forward and lobbing crosses in, but nothing doing.
88' - Finally some decent play from Bayern and that should've been the equalizer. Tolisso finds Lewandowski with a beautifully-weighted through ball. But Navas is out quickly and the Polish frontman can't get enough on it to lift it over him
86' - Some real park football in a Champions League semifinal there. A cross comes in Marcelo boots it straight up in the air before a succession of shanked attempts to play the ball eventually end with Real clearing. Not a classic this.
84' - Real make their last sub. Kovacic on for Casemiro.
82' - Ronaldo, who has barely had a kick tonight, combines well with Modric but the attack breaks down. It must be said, this has beena pretty low-quality game on the whole.
79' - Thiago loops a freekick to the back post, Süle wins the header but Bayern are nowhere near the second ball. They haven't created a great deal in this half. Madrid haven't done a huge amount either but they capitalized on that one big mistake.
76' - Heynckes answers that one quickly, withdrawing Martinez for the more attack-minded Tolisso, though Martinez does appear to have a head injury. But the hosts are in trouble instantly, and Ulreich has to make a smart save from Benzema.
74 - Thiago is absolutely fuming after being penalized for a tackle on Modric that didn't look like it had much in it. Hummels clears the set piece. What do Bayern do here? Going for the equalizer could open the door for Real but 1-2 in Madrid is a tough task.
71' - Ronaldo has one in the net but it's a clear handball. He'd taken a long ball down with his left arm before driving it home with his left foot but the referee made the right call.
67' - Bayern go close from the corner. It's hit to the back post but the knockdown just won't fall for Müller, who collides with Lewandowski in an attempt to get the ball.
66' - Müller and James combine well to win a corner while Real remove the injured Carvajal in favor of Karim Benzema, which presumably means Vazquez at full-back? It's hard to say for certain.
63 - Ribery with another chance, from a similar positon on the right of the box - and with a similar result. Navas saves again.
59' - Ribery almost gets one back. He jinks inside from the right but Navas beats the shot away.
57' - GOAL! A horrible mistake from Rafinha hands Real the lead. The fullback gives the ball to Asensio near the halfway line under no pressure. The substitute plays a long range one-two with Vasquez and clips past Ulreich with his left foot.
56' - Müller hangs one up to Lewandowski at the back post. It's just over him so he tries to nod it back in to the box. But Modric is there to clear.
53' - Ribery goes in the book now. He still retains the petulance of his youth, even at 35.
51' - Close for Bayern. Ribery wriggles free down the left and drives it towards Müller. It's a tap in if he can get there but a posse of Real defenders scramble it away.
49' - A pretty sloppy opening to the half here again. Müller among those who've given the ball away already.
46' - We're back. Isco has been replaced by Asensio at the interval, it's not yet clear if that's injury-related.
HALF TIME: Bayern will be wondering how they aren't ahead here. They've had several chances and Real have created very little. But they have that vital away goal. Even when he's not involved, Ronaldo is involved - all of Bayern's defenders focused their attention on him and allowed Marcelo to equalize after Kimmich's opener. Plenty more to come here.
45+1 - James whips in a freekick which Lewandowski meets with his head. It's straight at Navas, who spills it causing a momentary panic but he eventually collects.
44' - GOAL! Marcelo gets Real level, totally against the run of play. A ball popped up on the edge of the box, Ronaldo considered an overhead kick and thought better of it. Bayern's defenders, pre-occupied by the forward, allowed the ball to bounce to the left-back who drove it home on the bounce.
42' - Ribery is making up for the loss of his old mate here. He takes the ball down the touchline before dropping it back to Rafinha. The fullback stands one up for Müller to volley but his shot is blocked.
40' - Ribery again teases Carvajal before scooping one up to the back post which Marcelo heads clear. Hummels swings a boot at the corner but his shot goes just over. Bayern building up a head of steam now.
37' - Kimmich, with his tail up after the goal, almost gets Müller in with a ball over the top, but it's a touch overcooked.
34' - Another enforced sub for Bayern, with Süle replacing the injured Boateng. Then, all of a sudden, Ribery is through but his first touch is dreadful and it trickles slowly through to Navas.
33' - Ribery gets the box of tricks out down the left and teases over a cross which Navas punches clear of Lewandowski.
28' - GOAL! Out of nowhere Kimmich has put Bayern in the lead. He burst down the right and looked to have no options for the cross. So he just hammered in at the front post. Some serious questions for Navas there.
23' - Carvajal forces Ulreich in to his first save of the night. The right back attempted a one-two but actually got the ball back off a Bayern foot. His shot was well struck but straight at the Bayern keeper. Real starting to look a little more comfortable.
21' - Kroos has a couple of corners in quick succession for the visitors but neither poses any great issues for the men in red.
19' - Rafinha is the first to take a shot in anger. He cuts inside and has a pop from 25 yards. It bounces ahead of Navas but it's a comfortable enough save for the Real keeper.
16' - Boateng appears to take out Isco in full flight but the referee sees nothing wrong with the challenge.
14' - A deep freekick from James forces the first corner of the match. But the dead ball is easily cleared.
13' - Müller has moved out to the right since Robben's departure, with Thiago playing off Lewandowski. It's all a bit disjointed at this stage but Bayern have seen more of the ball.
10' - Ramos is on the deck now. He got caught in a 50/50 challenge but looks to be ok.
8' - That's the end of the game for Robben. I think he got caught on the foot earlier in a bit of a scramble but it's hard to tell. Thiago is on in his place. The Spaniard is a fine player but they'll miss Robben.
5' - Robben is down on the floor and requires treatment. He's holding his foot. Thiago has been sent to warm up.
2' - Isco gets some space down the left and tries to find Vazquez but it doesn't quite come off.
1' - Lewandowski gets in behind Real straight from kick off. The angle is tight and he tries to pull it back to Müller but it's just behind the German. Almost a dream start for the hosts.
1' - And we're off. Bayern get things started and the stadium is buzzing.
20:38 - The stadium announcer is running through the teams while Bayern do that thing they do before games when they turn the lights on and off every few seconds. Not quite sure why that's needed, the fans seem to be doing a pretty good job of generating some atmosphere.
20:30 - The players are out warming up on the Allianz Arena pitch and Real Madrid have tweeted a couple of warning shots to their German hosts....
20:21 - Just over 20 minutes until kick off, time for a little stat attack, courtesy of Opta.
20:13 - There's plenty of history, recent and not so recent, with these two. It's their 18th meeting in Europe's top club football competition, a record. Both teams are spearheaded by prolific forwards, with Ronaldo on an 11-game run of consecutive goals in the Champions League and Robert Lewandowski enjoying another excellent season.
"Cristiano has had an incredible career, but we have Robert Lewandowski, who has scored 38 goals (this season), so the question should be asked who will stop him?" said Jupp Heynckes before the game.
20:00 - The teams have been announced and Bayern have gone very attacking, with Javi Martinez their only holding midfielder. The old guard Arjen Robben and Franck Ribery join forces again out wide while James Rodriguez will look to get one over his parent club. Real's line up is largely as expected, with Isco and Lucas Vazquez preferred to Karim Benzema and Gareth Bale as Cristiano Ronaldo's supporting cast.
19:45 - Welcome to our live ticker of all the action in the Champions League semifinal first leg at the Allianz Arena in Munich. The game kicks off at 20:45 CEST (1845 GMT), and our coverage here will begin around an hour before that.
If you're itching to get started already and can't wait any longer, here's our full preview of tonight's match.
And here's a trip down memory lane, looking at the numerous past meetings between the Bavarian and Castilian giants: