With nearly all votes counted Hungary's center-right opposition party, Fidesz, has secured 206 of the 386 parliamentary seats. The ruling Socialists, headed by Prime Minister Gordon Bajnai, came a distant second, marginally ahead of the far-right Jobbik party.
The National Election Committee said the ruling Socialists gained 28 seats, ahead of the far-right Jobbik party which had 26 seats in the first round. The green liberal LMP party is currently fourth with five seats.
A second round of voting, scheduled for April 25, will decide whether Fidesz has won the two-thirds majority required to push through major reforms without opposition support.
Comeback kid
Fidesz leader Viktor Orban declared election victory and said Hungarians had voted for a change on Sunday.
"Hungarians voted on Hungary and Hungary's future. Today Hungary's citizens have defeated hopelessness," the one-time premier told party supporters.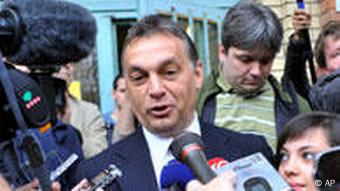 Viktor Orban faces tough challenges as Hungary's likely new premier
"I feel it with all my nerves and know it deep in my heart that I face the biggest task of my life. I will need all the Hungarian people to solve that," said Orban.
"On this splendid day Hungarians have expressed that Hungary is united, Hungary has power, is able to do great things. It wants jobs, order and safety - Hungarians have shown to the world that it's good to be Hungarian again," he told 2,000 cheering supporters in central Budapest.
Fidesz campaigned on cutting taxes, creating a million jobs over the next 10 years and supporting local businesses to boost to Hungary's ailing economy.
Austerity measures by the ruling Socialist party, along with an unemployment rate of over 11 percent, had seriously damaged the Socialist government's popularity.
nrt/Reuters/dpa
Editor: Mark Hallam