A center-left coalition appeared set to take power from Croatia's ruling conservative party, with more than 70 percent of votes counted early on Monday.
Partial results announced by the electoral commission indicated that the "Kukuriku" coalition - led by the Social Democrat SDP would hold a majority of 78 seats in the 151-member parliament.
"Croatian citizens gave us confidence, a chance to lead Croatia and our responsibility is enormous," SDP leader Zoran Milanovic told hundreds of supporters celebrating the early results.
"We will not let you down, I promise that," said Milanovic, who is likely to be the country's next prime minister.
The ruling Croatian Democratic Union (HDZ) - tainted by corruption and declining living standards - were expected to win just 48 seats in Sunday's election, Croatian national television HRT calculated.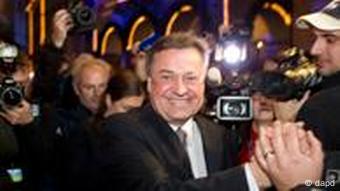 Jankovic's new party has stirred up Slovenian politics
Current prime minister and HDZ leader, Jadranka Kosor, conceded defeat but claimed the result was "good under the circumstances."
Electoral shock in Slovenia
In neighboring Slovenia, where parliamentary elections were also held on Sunday, there was a surprise victory for the center-left Positive Slovenia party.
The party is headed by Zoran Jankovic - current mayor of the capital city, Ljubljana, and former manager of the country's largest food retailer, Mercator. Founded only seven weeks ahead of the vote, Positive Slovenia took 28.5 percent of the vote and was expected to pick up 28 seats in the 90-seat parliament.
"The results show that Slovenia will go in the right direction," said Jankovic, whose party will need to rule as part of a coalition. "It is obvious that the citizens want an efficient state."
The conservative Slovene Democratic Party, who had been expected to win the election, trailed with 26.3 percent.
Meanwhile, the center-left Social Democrats of outgoing Prime Minister Borut Pahor - who was forced to call an early election due to resistance to a tough austerity package - won only 10.5 per cent of votes compared with 30.5 in the last elections in 2008.
Slovenia became a member of the EU in 2004, with Croatia set to become the second former Yugoslav republic to join in mid-2013.
Author: Richard Connor (AP, dpa, AFP, Reuters)
Editor: Holly Fox