Reports of Augsburg Bishop Mixa's resignation, in the form of a letter to the pope, initially came from the Augsburger Allgemeine newspaper, and have now been confirmed by church officials in Mixa's Augsburg diocese.
Church officials in the southern-German city said on Thursday that Mixa wrote in his letter of a desire "to prevent further damage to the Church and make a new start possible" by resigning.
The scandal surrounding Mixa dates back to his time as a parish priest in the town of Schrobenhausen between 1975 and 1996, when he also oversaw the board of the town's orphanage. It is apparently unrelated to recent sex abuse scandals in German Catholic institutions.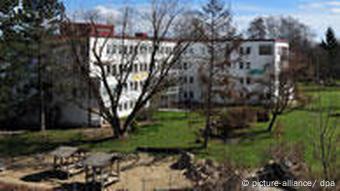 The orphanage has hired an investigator to look into the abuse charges
Several people who lived at the orphanage as children have come forward with allegations that Mixa beat them with his fists, a stick and a carpet beater when they were reported for misbehavior.
"I ask forgiveness from all those I may have treated unjustly, and all those I have caused to grieve," wrote Mixa in his letter to Pope Benedict XVI, according to the Augsburg diocese.
The orphanage has apologized to the victims and hired an attorney to investigate the abuse allegations, although most of the cases stem from so long ago that they can no longer be pursued in court. The attorney is also investigating allegations of the misappropriation of the orphanage's funds to pay for fine wine, a tanning bed and highly-priced art.
Calls for leave of absence
Mixa originally denied the physical abuse charges "with a pure heart." He later admitted that he had slapped some children, and said that any financial irregularities were inadvertent.
Germany's top Catholic bishop, Freiburg's Robert Zollitsch, publicly stated on Wednesday that he and Munich Archbishop Reinhard Marx had asked Mixa to take an extended leave of absence to wait out investigations into his actions.
Zollitsch said they had discussed with Mixa whether "a period of spiritual retreat and geographical separation" would ensure "a more factual atmosphere during the investigation."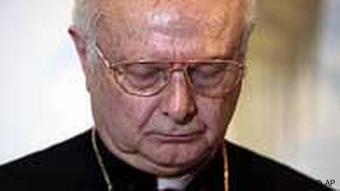 Zollitsch and Mixa's views differ on several issues
Words of apology
Mixa is regarded as one of Germany's most conservative bishops and fiercely supports parent child-rearing over sending them to kindergartens. Zollitsch, who heads the Conference of German Bishops, is seen as progressive by comparison, but the public parting of ways between two German bishops is unprecedented.
The Augsburger Allgemeine quoted Mixa's resignation letter as saying that the "continuing public discussion" about his character have "put a strain on priests and believers."
msh/acb/dpa/apn/Reuters
Editor: Chuck Penfold