About 50 vigilantes sing and dance to local war songs as they prepare to venture into Cameroon's northern frontline with Boko Haram. They know the terrain to their finger tips and are capable of outmaneuvering the insurgents.
They wield different versions of handmade machetes, a few Kalashnikovs and anything they could use to scare off the Islamists. Since their inception, they have had some amount of success fending off an already weakened Boko Haram.
By giving the vigilantes motorbikes and bicycles, Midjiyawa Bakari, who is the Governor of Cameroon's Far North region, told DW that he hopes they can "track down unwanted visitors."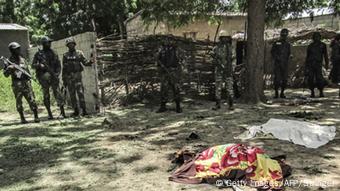 Boko Haram has resorted to suicide attacks
"After a long period of time spent encouraging people to contribute to the fight against Boko Haram, the inhabitants of villages bordering Nigeria have been joining these self-defense groups in large numbers," Bakari said.
"Those members that died protecting Cameroon did not lay down their lives in vain. Their country will always remember and honor them," he added.
Last year, Cameroon and its neighbors formed a military coalition and launched an offensive against Boko Haram. They took back almost all of the swathes of territories under control of the militants.
Boko Haram has resorted to carrying out lone wolf suicide attacks and is now planting landmines across the Cameroon-Nigerian border. As a result, Cameroon's army is suffering heavy casualties and cannot keep track of Boko Haram's locations. The government hopes that with local expertise and very mobile vigilante groups, the movement of the militants can be tracked.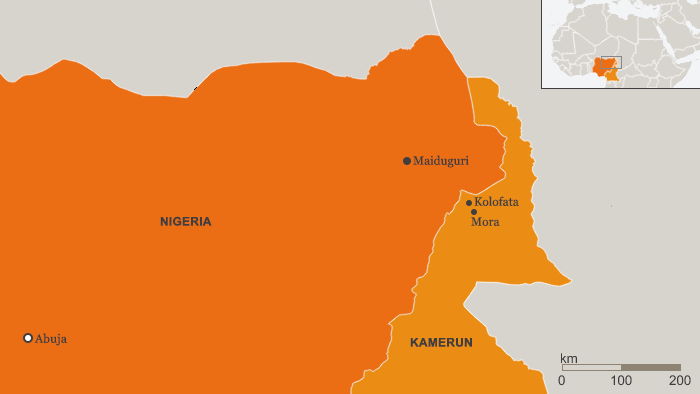 Boko Haram has been using Cameroon's porous border to carry out its attrocities
In Kolofata, a Cameroonian border town, which has been hit several times by Boko Haram, an armed vigilante, Fon Godlove, is cruising on his brand new 125cc motorbike. Godlove is one of 50 recipients of the bikes. "This motorcycle will take me to anywhere I want to go,"Godlove proudly said.
The primary school teacher joined a vigilante group last year, because he said he was tired of running away from Boko Haram. He is aware of the dangers of confronting gun-toting militants, armed to the teeth, with crooked and rusty machetes. But he said he is not afraid to confront them anywhere.
His new motorbike will make his work much easier, he said. "Whether the road is bad or good, I am able to go with the motorcycle. It can take me anywhere - un-tarred roads, hilly places, valleys, deserts," Godlove added.
As the vigilantes received their motorbikes, Kolofata resident Dr. Awah Sadjo was among the group of onlookers. She said she understands the reasons for making the youths mobile. "The military cannot be everywhere," Sadjo said.
Nigeria is also using vigilante groups to fight Boko Haram
Sadjo lost a few members of her family during Boko Haram attacks in 2015. "We feel more secure when there are self defense groups at work. Now that they have been given motorcycles and weapons to facilitate their work, I feel happy," Sadjo added.
Another Kolofata resident, Hamadikou Falama, said Cameroon is reporting fewer casualties as a result of the work of the vigilantes. "Last week we detected three strange teenage boys in the town and when some of our members went to search them, the strangers refused to collaborate," Falama said.
"After using force, we discovered they had explosive devices that they were planning to install on our roads. One of them unfortunately escaped, but we arrested the two," he added.