Ukraine has not been getting the kind of attention President Viktor Yanukovych had hoped for ahead of the 2012 European Championships, which begin in Ukraine and Poland in June.
German politicians, including one cabinet minister, are calling for sanctions and some have suggested finding ways to get Yanukovych's country removed from hosting Europe's top international soccer contest.
Visits 'out of the question'
Environment Minister Norbert Röttgen told the Monday edition of the mass-market Bild newspaper that the "dictatorship" in Ukraine cannot be able to take advantage of the soccer championships to improve its image.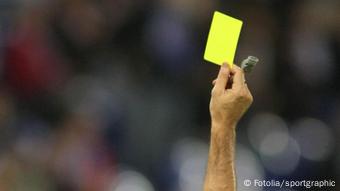 Some politicians in Germany said Ukraine deserves more than a warning
"Visits by ministers or prime ministers are out of the question under the current circumstances," he told the paper. "The Ukrainian government should immediately release Ms. Tymoshenko to freedom."
Parliamentary Deputy Development Minister Gudrun Kopp said the Euro 2012 matches scheduled for Ukraine should be moved to co-host Poland or a third country, according to a report in the Westfalenblatt daily. While the tournament's opening games will be in Poland, the final is set for July 1 in Kyiv.
Politically motivated imprisonment
The furor was raised by jailing opposition leader and former Prime Minister Yulia Tymoshenko, who was also a leader of Ukraine's so-called Orange Revolution. Over a week ago Tymoshenko began a hunger strike to call attention to what she called the inhumane conditions of her imprisonment.
In a ruling that has been condemned as an act of political revenge by Western political leaders, Tymoshenko was found guilty of abuse of power as prime minister while negotiation energy deals with Russia.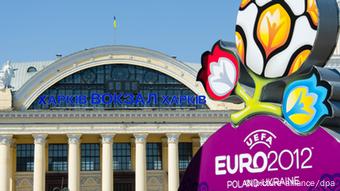 Tymoshenko is being held in Kharkiv, one of the Ukranian venues for Euro 2012
Other leading German politicians called for care to be taken when considering whether to attend the European Championships.
"If in doubt, you should not go," opposition Social Democratic Party leader Sigmar Gabriel told the Bild am Sonntag newspaper. "Politicians have to be careful not to become the claqueur of the regime."
According to Der Spiegel news magazine, German Chancellor Angela Merkel will recommend her cabinet members avoid attending the tournament if Tymoshenko is not released. Germany is scheduled to play all three of its first round matches in Ukraine.
How to pressure Ukrainian regime
But Michael Vesper, the general director of the German Olympic Sporting Committee, said he was not convinced boycotting the championships was the appropriate answer to the political situation in Ukraine.
"I think it would be better to attend and have meetings with the opposition and visit Ms. Tymoshenko," he told DW. "I think that is more uncomfortable for the people in power than just staying away."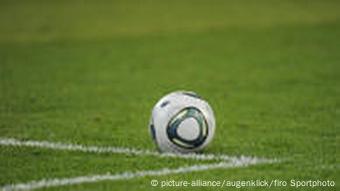 Sports cannot be completely separated from politics, Vesper said
There is no point in pretending that the soccer tournament is unrelated to political developments in Ukraine, Vesper added. He called on the tournament's organizer, the European soccer body UEFA, to distance itself from the regime in Kyiv.
"The spotlight should be used to put the attention on the conditions there and create as much pressure as possible on the regime," he said.
Saving democracy
The German government last week said that Ukraine should ensure 51-year-old Tymoshenko receives appropriate medical treatment. She claims that guards punched her in the stomach and twisted her arms and legs while forcibly taking her to a hospital to be treated for serious back pain caused by herniated disc.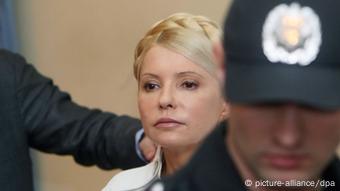 Tymoshenko's daughter said her mother's condition is weak
Berlin offered to treat her in a German hospital, but the offer was refused by officials in Kyiv who accused Merkel of meddling in domestic Ukrainian affairs, adding that Ukrainian laws do not permit prisoners to leave the country for treatment.
In an interview the Frankfurter Allgemeine Sonntagszeitung, Tymoshenko's daughter Yevhenia appealed to the German government to "save my mother's life before it is too late."
"The fate of my mother and my country are now united," she told the paper. "If she dies, so too will democracy."
Author: Anne Allmeling / sms
Editor: Greg Wiser