The California wildfires have closed highways, schools and museums, shut down production of TV series and left a hazardous haze over the region, and unprecedented wind levels were set to worsen the situation on Thursday.
About 230,000 people have been asked to evacuate from the area and the fire has destroyed almost 200 homes and buildings. This number is expected to grow.
Read more: California burns in wildfires driven by wind and drought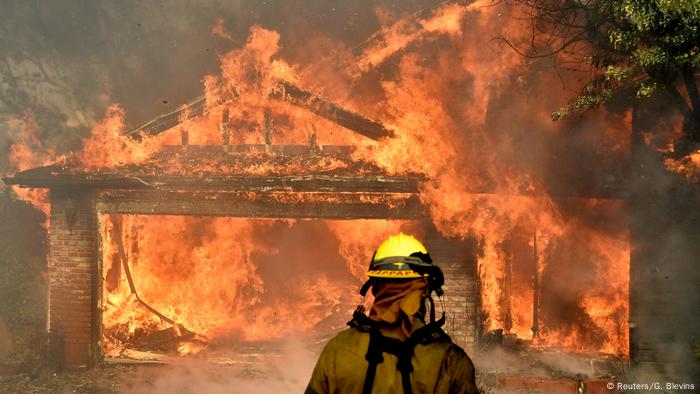 A home engulfed in flames in the San Fernando Valley.
This is the second time in two months that wildfires have devastated Californian communities, leaving hundreds of homes feared lost and displacing tens of thousands of people. In October, fires killed 44 people and destroyed 8,900 structures in California's Napa and Sonoma counties.
The largest and most damaging fire is the "Thomas" fire, which started in Ventura County, northwest of Los Angeles. More than two dozen horses have died and at least 150 structures have been lost. The fires have destroyed about 80,000 acres (32,000 hectares) in just over a day since the "Thomas" fire started.
Air tankers that had been grounded for most of Tuesday flew and dropped flame retardant on Wednesday while firefighters rushed to tame fires before the winds picked up again.
Weather conditions set to worsen blaze
The color-coded system that indicates the expected strength of the winds driving the California wildfires had reached uncharted levels, going past the red level meaning "high" to purple, which means "extreme."
"The forecast for tomorrow is purple," said Ken Pimlott, director at the California Department of Forestry and Fire protection. "We've never used purple before."
The purple wind level, which can see winds reach almost 130 kilometres [80 miles] an hour, could erase the hard work of firefighters. These conditions could turn a small fire into a large one or even carry embers that could start a fire in a different area.
"There will be no ability to fight fire in these kinds of winds." Pimlott said.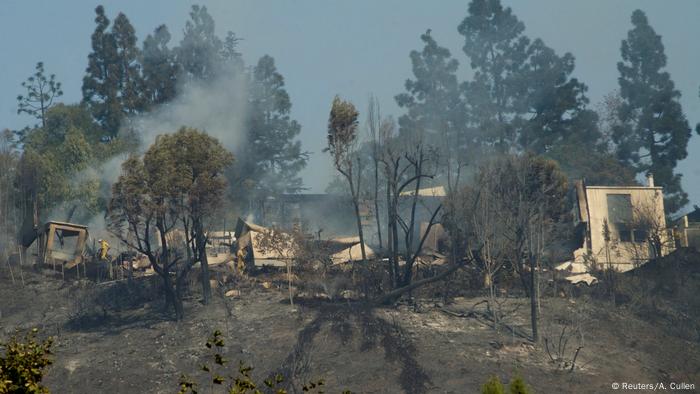 Smoke rises from a home damaged by fire in Bel Air.
Little flame was visible late Tuesday but a new fire erupted early Wednesday morning on the slopes of Sepulvada Pass, which closed a section of the heavily used Interstate 405 and destroyed four homes in Los Angeles' Bel-Air neighbourhood. The fire also reached an estate and winery owned by media mogul Rupert Murdoch.
1,800 firefighters and a fleet of aircraft were fighting the flames, but the blaze was only 5-percent contained and an estimated 12,000 buildings were in danger.
In the San Fernando Valley north of Los Angeles, the Creek Fire destroyed at least 30 homes, blackened more than 12,000 acres (4,800 hectares) and forced the evacuation of 2,500 homes and a convalescent center. Another fire, known as the Rye Fire, threatened more than 5,000 homes and structures northwest of Los Angeles.
The Ventura fire had spread along the coast to the west and up into the mountains around the community of Ojai and the agricultural city of Santa Paula.
lw/ng (AP, Reuters)