Speaking at a two-day US-led conference on climate change in Washington on Friday, Sept. 28, President Bush called for a "strong and transparent" way for nations to measure progress on fighting climate change but said that each country should set its own approach.
Bush also called for the creation of a new global fund that would help developing nations pay for clean-energy projects.
The conference was the first in a series of talks among major polluting nations that Bush has called for.
"Our nations have an opportunity to leave the debates of the past behind and reach a consensus on the way forward and that's our purpose today," Bush said to an audience that included representatives from European countries as well developing ones.
The US is the world's largest emitter of greenhouse gases though experts believe China may soon surpass it.
"Small step for mankind"
However, the US president's speech didn't convince many European officials who remained skeptical that the conference hosted by Bush at the State Department would help key UN climate talks in Bali in December.
The Bali talks will aim to launch a successor to the Kyoto Protocol which sets limits on industrial nations' emissions and which expires in 2012.
Sigmar Gabriel was not in a conciliatory mood
"This here was a great step for the Americans and a small step for mankind," German Environment Minister Sigmar Gabriel told journalists in Washington. "In substance, we are still far apart."
Bush's emphasis on voluntary approaches rather than the firm targets pushed by many European countries also raised a few eyebrows.
A long-term goal for reducing global warming was needed, Bush said, but added that "each nation will design its own separate strategies for making progress toward achieving this."
"One of the striking features of this meeting is how isolated this administration has become. There is absolutely no support that I can see in the international community that we can drive this effort on the basis of voluntary efforts," John Ashton, a special representative on climate change for the British foreign secretary, said in an interview.
"I don't think that this meeting by itself moves the ball very much at all. The much more significant meeting this week was at the UN where there was a sense of urgency."
Criticism at odds with Merkel's statements
Bush's proposal to expand nuclear energy to fight climate change and his statement that carbon dioxide emissions would be much higher today if it weren't for the 439 nuclear power plants worldwide was sharply criticised by Germany's Gabriel.
"I don't it's particularly clever to give the world the message: build new nuclear plants," Gabriel said.
"First you urge people to expand nuclear energy and then you send in NATO to bomb the nuclear power plants because they did the wrong thing -- that isn't particularly intelligent politics."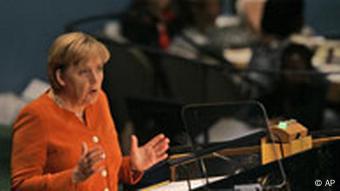 Merkel was full of praise for Bush's initiative on climate change
Gabriel's combativeness is in sharp contrast to Chancellor Angela Merkel's statements on US climate policy.
Earlier this week at the sidelines of the UN Assembly in New York, Merkel welcomed Bush's invitation to the world's 16 worst polluters for climate talks.
"I think it's very important because it makes it clear that the Americans are back in the climate process," Merkel said.