"Now is the time for us to set aside differences and to move forward," Bush said before leaving Washington for a five-day trip to Europe where he plans to focus on emphasizing the "strong friendship" with Europe.
On Monday, the US President was to meet with European Union and NATO leaders in Brussels, where he will give a keynote speech stressing "a new era of transatlantic unity" and continued cooperation on issues like Iran and the Middle East peace process.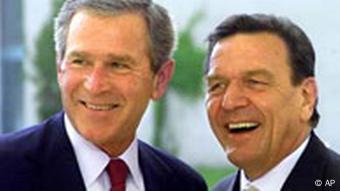 Bush last visited Germany on May 23, 2002 when he met with Chancellor Schröder in Berlin.
As Bush's first overseas trip of his second term, the European visit, which will also include bi-lateral meetings with French President Jacques Chirac, British Prime Minister Tony Blair, German Chancellor Gerhard Schröder and Russian President Vladimir Putin, is intended to set the tone for a new working relationship after Europe and the US drifted apart over the Iraq war.
Looking towards the Middle East
"As past debates fade, and great duties become clear, let us begin a new era of transatlantic unity," Bush was due to announce to his European counterparts, many of whom such as Chirac and Schröder have been critical of Washington's "go-it-alone" foreign policy in Iraq and the Middle East.
Diplomats in Brussels have suggested the EU would press the US leader for substantive progress on the Middle East "roadmap" following the election of a new Palestinian leadership and its declaration of a truce with Israel.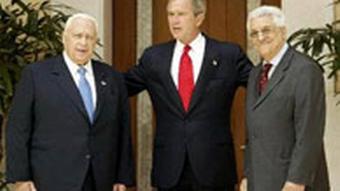 Europe calls for Bush to work closer with Sharon and Abbas in bringing about peace for the Middle East. (Archive photo from June 4, 2003)
According to an advance copy of his speech, Bush was to say that ending the Israeli-Palestinian conflict was "our immediate goal," and give strong words of praise and support for the efforts of the European Union.
"America supports a strong Europe because we need a strong partner in the hard work of advancing freedom in the world," said the speech, in which Bush made spreading democracy a central pillar of his second four-year term in the White House.
"Our strong friendship is essential to peace and prosperity across the globe – and no temporary debate, no passing disagreement of governments, no power on Earth will ever divide us," the president was due to say.
Question of Iran
One issue likely to feature high on the agenda of both EU leaders and Bush is the escalation in the dispute over Iran's nuclear program. EU heavyweights Britain, France and Germany have been negotiating with the Islamic Republic to try to bring its nuclear activities into the framework of UN guidelines.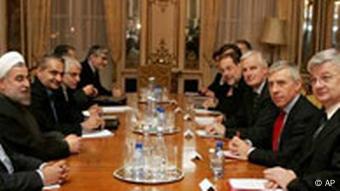 Iranian and EU officials met Dec. 13, 2004 to discuss trade cooperation and Tehran's nuclear program.
US officials, on the other hand, are pushing for Iran to be hauled before the UN Security Council, claiming Tehran is covering up the development of nuclear weapons. The Europeans prefer a carrot-and-stick approach coupling nuclear compliance with the promise of a lucrative new trade accord for Iran.
Europeans only recently were alarmed by talk in Washington of plans for a military strike on Iran's nuclear weapons. Bush, however, sought to allay the fears saying they were "just not the truth." At the same time, he has made no effort to suppress his impatience with Tehran's slow response to diplomatic overtures.
Bush will most likely not dwell on these differences or on the fact that the US opposes a European plan to lift an embargo on arms sales to China. Instead he will concentrate on demonstrating cooperative spirit.
"Today, America and Europe face a moment of consequence and opportunity," he will say. "Together we can once again set history on a hopeful course."