"Nyamitwe was slightly wounded on his arm during the attack. He is receiving treatment," an official told the news agency Reuters, adding that the incident took place near Nyamitwe's home in the Kajaga suburb of the capital Bujumbura on Monday night.
Nyamitwe was returning to his home when "he was met with sustained gunfire and grenade explosions," a high-ranking presidential official told the news agency AFP on Tuesday. One of the bodyguards was killed and another injured.
Nyamitwe is one of the most prominent voices in Burundi, frequently criticizing the West for interfering in the central African nation.
His brother, Alain Aime Nyamitwe (photo below), who is also Burundi's foreign minister, described the assassination bid as "a new, pointless effort to disturb republican institutions."
Born of conflict
The Nyamitwe brothers have risen to prominence in recent years. Their father was killed in ethnic violence against Hutus by the Tutsi-dominated army during the 1970s, the same decade they were born.
Nkurunziza was re-elected in July 2015 in a poll boycotted by the opposition, which said his extended presidency violated the constitution. Some opponents have taken up arms against his government, with over 500 people killed in the unrest and at least 300,000 fleeing the country. Several well-known figures, including high-ranking military officers, have been assassinated.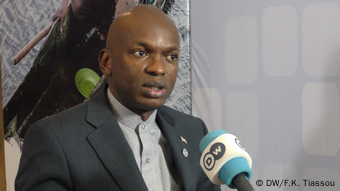 Alain Aimé Nyamitwe, Burundi's foreign minister
Nkurunziza's announcement last year that he planned to seek a third term triggered a surge in violence. The International Criminal Court (ICC) says at least 450 people have been killed in the central African nation.
Burundi in the bad books
Burundi suspended cooperation with the UN human rights office and declared three UN rights investigators unwelcome after a damning September report detailing atrocities.
A report by the International Federation for Human Rights (FIDH) warned of the risk of genocide in the country which suffered a brutal civil war from 1993 to 2006 between majority Hutus and minority Tutsis, which claimed an estimated 300,000 lives.
jbh/kms (AFP, Reuters)