Representatives from Burkina Faso's army, political parties, and civil society groups on Wednesday agreed that the country's transitional period should last one year, until November 2015 elections. A civilian interim government should also be installed, the statement said.
The presidents of Nigeria, Ghana and Senegal flew to Ouagadougou on Wednesday to broker the transition deal, following the resignation last week of Burkina Faso's longstanding president, Blaise Compaore. Compaore, in office for 27 years, fled to the Ivory Coast in the midst of a violent popular uprising, prompted by his bid to adjust the constitution so he could seek another term in power.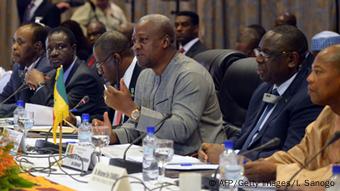 Mahama (in gray, gesturing) voiced confidence in a swift transition
"I have confidence and I believe that in days, rather than weeks, the people will come out with an interim leader," Ghanaian President John Dramani Mahama, currently the head of the West African ECOWAS alliance, said after the talks. Mahama mediated the talks, accompanied by Macky Sall of Senegal and Nigeria's Goodluck Jonathan.
Mahama also warned that delays in appointing the "eminent civilian personality" pledged in the joint statement could prompt African Union sanctions against Burkina Faso. The AU had said on Monday that although Compaore's exit was prompted by public pressure, the change remained undemocratic and could trigger sanctions. Canada withdrew aid to the country but the US is yet to decide whether it classes the change in government as a coup, a distinction that would automatically halt military aid for the country.
Delayed decision on interim leaders
The ECOWAS troika of Sall, Mahama and Jonathan recommended that no member of the interim government should be eligible for the new elections.
Macky Sall told journalists that he had hoped for three candidates for the role of interim president in Wednesday's talks.
"But we realized there was no use in rushing and running the risk of compromising what we are seeking, which is why we are leaving a team of negotiators to continue the discussions," Sall said. The three presidents are due in Accra, Ghana, on Thursday for a special ECOWAS summit expected to focus on Burkina Faso and the Ebola epidemic.
The military installed one of its own, Lieutenant-Colonel Isaac Zida, to run the country after Compaore fled. Zida suspended the 1991 constitution on taking office; negotiators on Wednesday reportedly agreed that it should be reinstated.
Opposition representatives in the capital were uneasy about the negotiations in the early going, warning that they would not accept the country's old guard as interim leaders.
"We haven't even buried our dead yet and they are putting arrogant people back in office who held the people in contempt," said Luc Marius Ibriga, a spokesman for the civil society groups, as their representatives left the room. Representatives of Compaore's party also stormed out at one stage in the talks.
msh/av (AFP, AP, Reuters)