On Monday (21.09.2015), Burkina Faso's army chiefs ordered coup soldiers to lay down their weapons as troops headed to the capital Ouagadougou from the provinces. They aim to remove the coup leaders from power without spilling blood. Dozens of tanks were seen moving towards Ouagadougou. Groups of youths began putting up barricades and burning tyres in the outlying districts of Zogona and Tampouy. Protests against the coup continued throughout the country, but no violence was reported.

A Deal to end the crisis

The Economic Community of West African States (ECOWAS) led by the presidents of Senegal and Benin, held three day mediations in Ouagadougou and on Sunday came up with a 12-point plan to end the crisis. The West African block ECOWAS negotiated a draft deal to end the political crisis in Burkina Faso though they failed to secure an immediate restoration of civilian rule.

Dozens of coup supporters stormed the hotel where ECOWAS mediators are staying. The mediators proposed that Kafando returns as interim president, along with an amnesty for coup leaders. They also suggested general elections, originally scheduled for October, be held in November 22. This proposal was swiftly rejected by civil society and opposition politicians.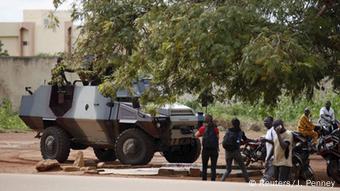 Tanks seen moving towards Ouagadougou


General Gilbert Diendere, now in charge of Burkina Faso, did not attend the news conference where the draft agreement was read and it was unclear whether he would abide by the plan that calls for him to step aside until the elections can be organized.

The putsch insisted to stay in power until elections are held, but that could prove to be the serious obstacle to progress on the draft agreement

Senegal president Macky Sall who is the ECOWAS chairman, urged both sides to come to a compromise as soon as possible to minimize bloodshed. "This will be an open door to end the crisis or we risk loosing an opportunity to conduct a democratic and fair election," he said. He also added that he wants to see the young generation deciding for Burkinabes, when it comes to casualties and the dead.

Serge Martin Bambara, founder of the political grassroots movement 'Balais Citoyen' in Burkina Faso is against the ECOWAS proposal. "They are encouraging the culture of impunity to those who killed people, they are committing crimes against humanity; so far we are counting around twenty people killed contrary to what is said by many, without mentioning the injured ones," he says. Bambara called the presidential guard "criminals inherited from Compaore" and said that the RSP was not different from Blaise Compaore.
Ouagadougou residents were also highly critical of the ECOWAS deal and took to the streets on Monday (21.09.2015)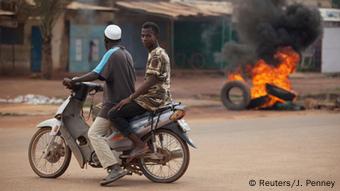 Burkinabes critical of the ECOWAS deal


West African member states under the regional bloc ECOWAS are to discuss the proposed plan on Tuesday (22.09.2015) in Abuja, Nigeria.
The political turmoil began on Wednesday (16.09.2015) when the military arrested Burkina Faso's interim president Michel Kafando and prime minister Isaac Zida and then installed a military general as head of state.