Foreign Minister Frank-Walter Steinmeier called on lawmakers Thursday, Sept. 20, to vote in favor of prolonging the German army's mandate in the realm of the International Security Assistance Force (ISAF) in Afghanistan as well as that of its six Tornado reconnaissance jets, which currently assist the mission.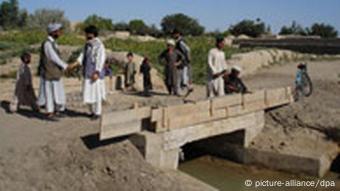 Pulling out troops now would reverse progress already made, Steinmeier said
"Anyone who demands withdrawal of the troops from Afghanistan puts at risk everything that we have built up in the last six years," the Social Democrat (SPD) said, though he conceded that "the way has been harder than many of us had hoped."

The SPD, Chancellor Angela Merkel's Christian Union and the free-market liberal FDP expressed their support for extending the mission in the Bundestag, Germany's lower house of parliament. Their combined votes are enough for the extension to be approved when lawmakers decide the issue in three weeks.

The Left party's parliamentary leader Gregor Gysi reiterated his party's rejection of the mission, referring to polls that showed that a majority of Germans wanted their soldiers to leave Afghanistan.

Greens chief appeals to Afghan foreign minister

Germany's Green party has been in disarray over the deployment, with many members opposed to the government's plans for the two, currently separate missions to be combined into one mandate. Green parliamentary group chief Fritz Kühn stressed that his party backed ISAF, although most Green party parliamentarians are expected to abstain or oppose the extension because they disagree with the Tornado deployment.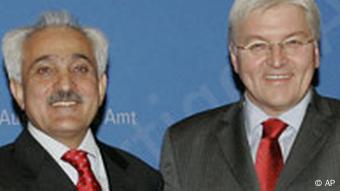 Spanta (l.) and Steinmeier
In a letter to be published in the tageszeitung daily on Friday, Green party head Claudia Roth called on Afghan Foreign Minister Rangin Dadfar Spanta to remain a member of the political organization despite members' disagreement over Germany's mission in his country.

Spanta had previously told the paper he had written a letter of resignation from the party but was not yet entirely sure about sending it. The minister lived in Germany for some 20 years as a refugee and joined the Greens in the city of Aachen in 1994.

Around 3,000 German soldiers have been deployed to Afghanistan.