While most players in the German league system are packing their cases for a summer holiday or a World Cup, there are two clubs whose chances of playing at the top flight next season still hang in the balance.
Since the 2008-09 season, the final spot in the Bundesliga has been determined by a playoff between the team finishing third in the second division and the club sitting 16th (third-bottom) of the top flight. This year it's Holstein Kiel against Wolfsburg, who stayed up last season by beating Eintracht Braunschweig 1-0 in each match of the two-legged contest.
That face-saving win was the fifth successive time the higher-division side has emerged triumphant in the playoff, with Eintracht Frankfurt, Hamburg (twice) and Hoffenheim all clinging on to their status since Hertha Berlin lost theirs to Fortuna Düsseldorf in 2011-12.
Read more: Hamburg relegated after 55 seasons in Germany's top flight
Haves and have-nots
In the nine seasons since the re-introduction of the playoff, which has featured intermittently in the fractured history of German football, the second-tier side has been promoted just twice with many German fans and commentators suggesting the discrepancy in finances, and budgets makes for a playing field that's far from level.
Those distinctions are even more acute in this year's playoff games, which will be played in Wolfsburg on Thursday and Kiel on Monday. Bundesliga winners and runners-up in the last decade and victors over Real Madrid in 2016, the Wolves have fallen away in recent years but were still able to splash out more than €10 million ($12 million) on three separate players this term and have a transfer record of €44 million.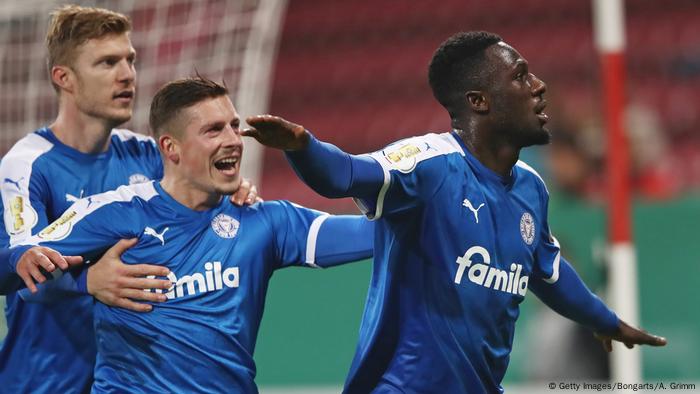 Holstein Kiel can reach the Bundesliga for the first time
By way of contrast, Holstein Kiel's entire squad is valued at less than the €17 million Wolfsburg paid for John Brooks a year ago and their 10,000-capacity Holstein-Stadion is too small for Bundesliga games. Under league regulations, grounds need to have a capacity of at least 15,000, of which 8,000 of those must be seated.
Until Wednesday, it had looked like Kiel would be forced to play next season's home matches somewhere else, if they are promoted. However, to the surpise of many the DFL, the company that operates the Bundesliga, announced that it would allow Kiel to play in their current stadium, based on a pledge that the club would expand the capacity to 15,000 by October.
"We are very happy that the DFL has relented and if it really does happen, we will be able to play at home," Holstein's sporting director, Ralf Becker told the SID news agency.
Wolves finally bare their teeth
In order for that to become a factor, Kiel first have to overcome Bruno Labbadia's side, who finally found their scoring boots in their last game of the regular season, beating already-relegated Cologne 4-1. That was the first time they'd scored more than once in a game since December 3.
"There's no replacement for victories," said Labaddia, who kept Hamburg up in the playoff in 2014-15.
"You can put in all the work you want, but if you don't get the results you're not going to get anywhere. The win and the manner of it has done us good. It's good that we dealt with the pressure – it was like a cup final. We've got two more finals coming up now, though."
Kiel coach Markus Anfang is only too aware of the importance of these games, but sees his side as the underdogs that they are.
"It's something special, something historic," he said. "It's possible of course - we're in the competition - and we'll do everything we can to achieve it."
Last season was their first in the second division in 36 years and another promotion would secure them one of the more unlikely debut seasons in the history of the Bundesliga.