Borussia Dortmund's Christian Pulisic is undeniably the face of football in the United States. The 19-year-old is a symbol of the new generation of players expected to turn things around for the US national team and Dortmund are naturally looking to capitalize on that hype during their US tour.
"It's about being there and giving people a sense of being closer to us. It's also about being present digitally to spark more interest, " said Dormtund's marketing director Carsten Cramer in an interview with German sports magazine kicker.
But this isn't entirely new territory for the German club.
In 2014, a year after reaching the Champions League Final, Borussia Dortmund took advantage of their popularity and successfully tapped into the Asian market by opening a Singapore office. Since then, the club have toured the continent three times to increase their fan base.
Yet the trip to the US isn't only about striking marketing deals and taking photos.
Even if only playing friendlies, the German club will take their first team to face serious competition during preseason. "We planned our PR events around football and not the other way around," said Cramer.
Dortmund square up against Premier League champions Manchester City in Chicago's Soldier Field for their first test. The black-and-yellows will then travel to North Carolina to play Champions League finalists Liverpool. Pulisic's home state of Pennsylvania will be the club's last stop before coming back to Germany. Borussia Dortmund will play Portugal's most successful club Benfica in the city of Pittsburgh.
Bayern Munich lay the groundwork
Although Dortmund have ramped up operations overseas in recent years, rivals Bayern Munich dominate the international market for Bundesliga clubs and the US is no exception. Back in 2014, the Bavarians opened an office in New York; this will be the club's third trip stateside in five years.
But Germany's biggest clubs aren't the only ones chasing dollar signs. The friendly Florida Cup tournament in the US attracted Cologne in 2015, Schalke in 2016, and Wolfsburg in 2017.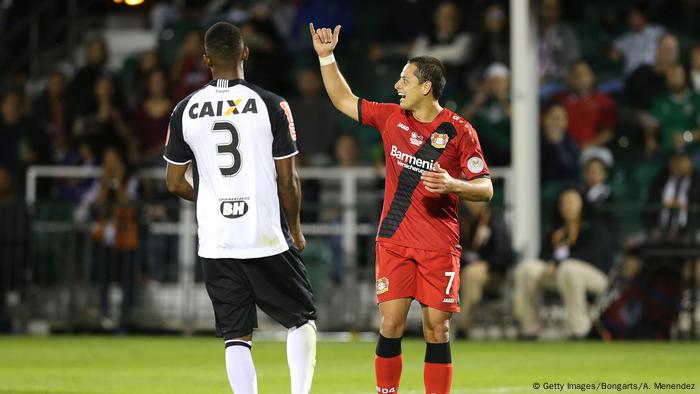 Chicharito playing with Bayer Leverkusen during the 2017 Florida Cup
Bayer Leverkusen, meanwhile, featured in all of the first three Florida Cups. Back then, Chicharito was among Leverkusen's ranks. The Mexican striker's popularity in North America paid dividends for Leverkusen as a brand. During his first year at the club, over 1.5 million new fans made their way onto one of Leverkusen's social media platforms, making them the third fastest growing football club in Europe. Their Instagram account saw a whopping 320 percent increase while their Twitter following grew by 188 percent and Facebook by 81 percent.
So it seems that those January trips to Florida had very little to do with the warm weather after all.
'Exciting target market'
2018 German cup winners Eintracht Frankfurt have spent the last two summers stateside during preseason.
"The US is an exciting target market for Eintracht and also for the German football league. Traveling there is also an important part of our internationalization strategy," said Eintracht's executive board.member, Axel Hellman once the club's first trip was announced early in 2017.
Reportedly even Hannover had planned two friendlies against MLS teams in the US but the matches were canceled after a series of negative results during the second half of the season.
Nevertheless, more Bundesliga teams and the German Football League (DFL) in general are increasing their efforts to better their reputation among fans across the Atlantic. In modern football, such a move is logical and even considered natural — but it can only be understandable as long as the clubs do not neglect their fans at home.