Bayern Munich 3-1 Hoffenheim
(Müller 23', Lewandowski 82', Robben 90+1' - Szalai 57')
A twice-taken penalty awarded after a theatrical leap, a contentious handball decision and a late nerve-settler all contributed to a crazy last ten minutes as Bayern Munich opened their 2018-19 title defense with a nervy win.
Everything seemed to be going to plan in Niko Kovac's first Bundesliga match in charge of the champions when Thomas Müller rose unmarked to head in a Joshua Kimmich corner in the first half, though Kingsley Coman's injury-enforced exit was a blow.
But Hoffenheim emerged after the break with greater purpose and deservedly got back in it when Adam Szalai skinned Jerome Boateng before firing a low shot across Manuel Neuer, making his first Bundesliga appearance for almost a year.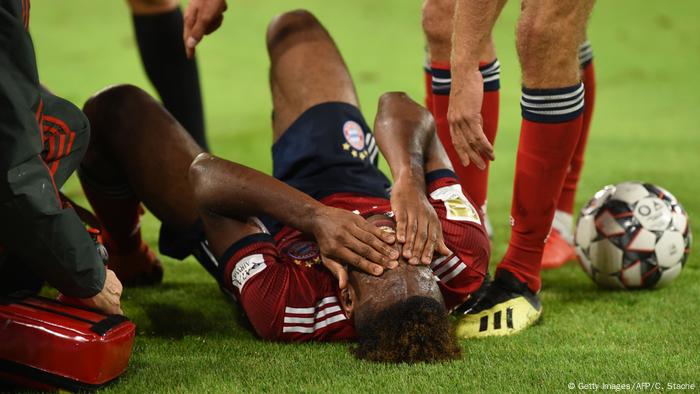 Kingsley Coman left the field injured just before the break
When Franck Ribery tumbled upwards over a tackle that never quite reached him, most neutral observers would've called for VAR, but the referee's decision was trusted. Lewandowski's penalty was poor, Robben tucked in the rebound and then the technology came in to play. The Polish striker was ordered to re-take the spot kick, seemingly because Hoffenheim keeper Oliver Baumann had come off his line. Quite why that mattered when Bayern scored is anyone's guess.
The farce hadn't quite finished there. Müller looked to have inadvertently given his team a cushion when debutant substitute Leon Goretzka's shot hit him and deflected in. The VAR ruling was that Müller handled intentionally, though it looked a lot like he was trying to avoid the ball.
There was no such controversy over Bayern's actual third, as Robben latched on to a Müller flick to seal the win. The Bavarians have won their last six opening weekend encounters and gone on to win the league each time. On the evidence of Friday night, they have work to do to secure a seventh straight title.
As it happened:
90+6 - Another opportunity for Lewandowski as substitute James floats one with the outside of his left boot. But the striker needs to put all the power in the header and can't get it on target.
90+3 - Lewandowski pulls a chance wide, but it doesn't matter at this stage.
90+1' - Thankfully no VAR called for this one. Mpller helps Kimmich's throw on round the corner for Robben and the Dutchman finishes it off.
90+1' - GOAL 3-1 Bayern Munich (Robben)
90' - Back to the players. Hoffenheim are leaving men up and James finds space in the box but Baumann denies him.
86' - VAR is stealing the show here. And not in a good way. It has been deemed that Müller intentionally handled the ball. It looked very much like he was trying to avoid it. No-one really knew what was happening there.
86' - No goal, handball.
86' - This is so cruel on Hoffenheim. Goretzka fires one from long range, it strikes Müller and deflects in.
86' - GOAL 3-1 Bayern Munich (Müller)
82' - This time Lewandowski makes no mistake but this is all a bit absurd. I can only assume they re-took the penalty because Robben was encroaching. The graphic said 'Offside', which is impossible in that situation. And Hoffenheim will argue that the initial decision should've gone to VAR but didn't. Absolute shambles to start VAR's campaign. No surprise there.
82' - GOAL! 2-1 Bayern Munich (Lewandowski)
82' - Well, this is bizarre. It's not immediately clear why this is happening but it is.
81' - No goal, penalty re-take.
80' - Lewandowski's penalty is poor and saved by Baumann but Robben follows up and slams home. But hang on, we're going to VAR.
79' - GOAL! 2-1 Bayern Munich (Robben)
78' - This is a contentious one. Nordveit goes to ground as Ribery drives in to the box. But the substitute stops short of the Frenchman, who jumps over the tackle and hits the deck.
78' - Penalty to Bayern.
76' - Baumann out quickly to stop Ribery cutting back across goal after being played in by Robben. That's a bit better from Bayern but the visitors pose a threat on the break. Is there another goal in this?
74' - The Hoffenheim captain can't carry on and is replaced by Nordtveit. He goes straight in to defend a Robben corner but it's cleared by one of his teammates.
72' - Vogt is back on but limping. Bayern are seeing enough of the ball but not doing a huge amount with it right now.
70' - Vogt is in trouble here, the Hoffenheim skipper limping off the pitch.
67' - He calls on it now, bringing on debutant Goretzka for Martinez. Nagelsmann also makes a chance, removing Adams for his own good. Akpoguma on.
65' - When does Kovac call on his bench? He's still got Goretzka, Wagner and James sat alongside him.
61' - Thiago gets an important block on a Zuber strike and suddenly Bayern are rocking a touch. Hoffenheim have looked a different side since the break.
58' - That one does count! They've improved this half and now Hoffenheim are level. They move play up the field smartly down the right but then lose it. But the men in white kept pressing and the ball comes to Szalai. The Hungarian made a bit of a mug of Boateng and smashed an angled drive from right to left and past Neuer.
57' - GOAL! 1-1 Hoffenheim (Szalai)
56' - Lewandowski has the ball in the net but it won't count. Bayern press and win the ball high up the pitch and Kimmich feeds the Polish striker. He tucks it away but went a fraction too early and was offside.
54' - Now the Bayern no. 10 Robbens his way inside from the right before, you guessed it, curling one with his left foot. But this time it flashes past the post. Robbening in from the right flank will surely soon be added to the dictionary.
53' - A quiet start to this half. Müller comes forward before offloading to Robben, but the Dutchman is offside.
49' - Adams is angry at Müller after the German made the most of a foul. The new Hoffenheim man is really walking a tightrope tonight.
47' - Grillitsch chances his arm from just outside the box. The effort makes Neuer work, and he initially parries but then recovers to pick it up.
46' - And we're underway in the second half! Zubebr has replaced Grifo for the visitors.
HALF TIME
A dominant half from the champions has been rewarded with Thomas Müller's header from a corner, and it could've been more. While Niko Kovac will be largely pleased with what he saw, Joelinton has missed a huge chance for the visitors. The real blow though is the injury to Kingsley Coman, which looks relatively serious. Can Julian Nagelsmann plot a way back in the second half?
45+4 - Kimmich's free kick comes in eventually and is cleared and Robben enters in place of Coman, who is on his way to the treatment room. Tough break for him. Then Müller becomes the first Bayern man in the book for a fairly innocuous foul on Bittencourt.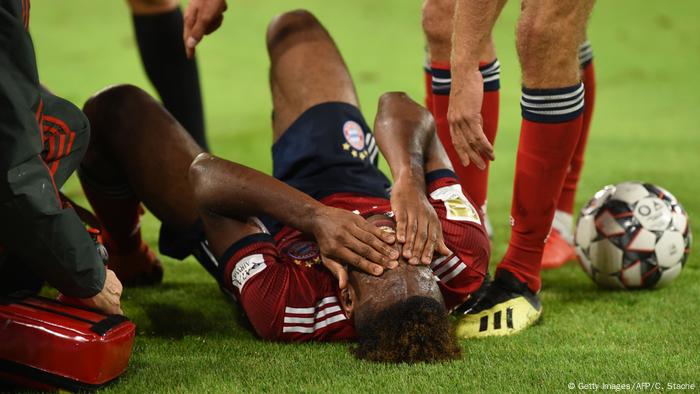 Kingsley Coman left the field injured just before the break
45+2 - It's not looking good for the French winger here. Robben is warming up but surely Bayern will check out Coman at the break. Schulz is belatedly booked and goes to check on Coman as he's carried off the pitch.
45' - Coman is down after being fouled yet again, this time by Schulz. He's signalled to the bench that he's in trouble here.
43' - Another Hoffenheim player goes in the book. Kaderabek is the latest after a senseless challenge on Ribery in the middle of the pitch.
42' - It seems Herr Müller loves an opening day goal.
39' - Adams fouls Coman again, despite being on a booking. The defender is playing a dangerous game. It'd be no surprise to see him hooked at the break.
37' - Ribery dances on the edge of the box, sucks the defender in and then feeds Alaba on the overlap. The Austrian lashes one across goal but it's neither a cross nor a shot. Then Coman produces a brilliant nutmeg and is through on Baumann. But the Hoffenheim keeper wins this battle, pushing the effort away.
34' - Huge chance for Hoffenheim! Oh Joelinton, what a miss. Bittencourt finds a pocket of space in the middle and picks out Schulz. His measured cross puts it on a plate for the Brazilian but he screws wide, unchallenged, from eight yards. Bit of a comedown after the German Cup hat trick that one.
31' - Müller gets the wrong side of Adams but the ball takes an age to drop and the defender gets back. Kimmich goes short to Müller from the corner but his lay off is nowhere near a teammate.
29' - Another booking for a Hoffenheim new man, as Bittencourt aims a petulant kick at Martinez.
28' - Another corner from Kimmich, this time on the right. Baumann now decides to come and punch clear. Lesson learned.
24' - So simple. Nagelsmann will be fuming. Kimmich puts a corner in to the six yard box from the left and Müller rises unmarked four yards out to nod home. Dreadful marking from the visitors and there must be a question about whether Baumann should come for that.
23' GOAL! 1-0 Bayern Munich (Müller)
21' - The visitors have not had much of the ball - just 26% - but they are staying compact and often forcing Bayern wide where the danger is, at least slightly, less. New Hoffenheim signing Adams is the first Bundesliga yellow card of the season for a cynical trip on Coman.
17' - Just as Hoffenheim finally had a spell of possession, Schulz gives it straight to Thiago. Bayern's intensity has been good so far, which will please Kovac, but no reward. Yet.
12' - Bicakcic is up, and Bayern would be too but for another strong Hoffenheim block. This time a loose ball form the corner falls to Boateng but a white shirt gets in the way again, Adams this time. There's a fair old atmosphere at the Allianz.
10' - Oof! Bicakcic gets one where it hurts from an Alaba thunderbolt. He's prone on the floor, which is fair enough in the circumstances.
8' - Hoffenheim finally get out of their own half. Thiago and Kimmich get in a bit of a mess after a throw and Bittencourt does well to put in a low ball that Boateng is forced to clear for a corner. But Grifo's delivery is poor.
6' - Nagelsmann is sporting some kind of horizontal silver pin where others might wear a tie. Interesting. But it's not helping his side, Bayern are pinning them in.
4 - Now a corner from the champions, won by Ribery. But Thiago's ball is easily cleared. After the ball is recycled, Müller just fails to bring it under his spell in the box. Fast start for Kovac's men here.
2' - Bayern win an early free kick in a good position on the right. Kimmich curls it towards Lewandowski, who finds half a yard of space, but his on-target volley is blocked. Those two are such a potent combination.
1' - Kick off is slightly delayed but we're finally off!
20:27 - The players belt out the national anthem as the camera pans to underfire German FA boss Reinhard Grindel and Germany team manager Oliver Bierhoff in the stands. We're almost there.
20:20 - The teams are out and Kovac has sprung a couple of surprises. Jerome Boateng, who many assumed would be playing for Paris Saint-Germain by now, starts ahead of Mats Hummels, who will watch on from the sidelines alongside Arjen Robben and James Rodriguez. New signing Leon Goretzka is also on an all-star Bayern bench.
Leonardo Bittencourt and returning creative midfielder Vincenzo Grifo both start for Hoffenheim ,after joining in the off season, while young Brazilian striker Joelinton is rewarded for his German Cup hat-trick with a first Bundesliga start.
Bayern Munich: Neuer - Alaba, Süle, Boateng, Kimmich - Martinez - Ribery, Thiago, Coman - Müller - Lewandowski. Subs: Ulreich, Hummels, Rafinha, Goretzka, James, Robben, Wagner
Hoffenheim: Baumann - Schulz, Bicakcic, Vogt, Adams, Kaderabek - Grillitsch - Grifo, Bittencourt - Szalai, Joelinton. Subs: Kobel, Zuber, Otto, Brenet, Nordtveit, Akpoguma, Belfodil
20:15 - After more than 100 days, one World Cup and countless transfer rumors, the Bundesliga is back. The hosts are overwhelming favorites to win at the Allianz Arena this evening and to claim a seventh successive title.
But Hoffenheim have proved something of a bogey side in recent times, with Bayern winning only one of the last four meetings between these two. Julian Nagelsmann's side won two of those matches, though both were at home, and he'll be confident of finding any chinks in Bayern's armor.
Both tonight's coaches agreed to join other clubs in the off season, with Niko Kovac leaving Eintracht Frankfurt to take up his post with the champions after beating them to the German Cup and Nagelsmann signing up to take over at RB Leipzig next term.
There's still time to brush up on your knowledge of the league before we begin, just take a look at our bite size guide to all 18 teams and we'll run you through the line ups shortly.