As of August 2007, Germany's Bundesliga will trade in the name they have had since their founding in 1963 for a new one -- "T-Com-Liga," most likely. And the uniforms will also be exchanged for new ones bearing the T-Com logo (T-Com's corporate color is hot pink.) The deal, reported at 60 million euros ($77 million), was announced by Deutsche Telekom board member Walter Raizner Wednesday in Munich. T-Com is a subsidiary of Deutsche Telekom.
Professional soccer teams in England, France, Austria and many other European countries already wear the names of corporate sponsors. Some discussion of Deutsche Telekom's new sponsorship is to be expected, Christian Seifert, head negotiator for the Bundesliga, told the Associated Press, but "the question is, why are we only just starting it now?"
The uniform and name changes cannot be implemented in the 2006/2007 season for logistical reasons related to the World Cup, but come August 2007, "every fan who buys a jersey will be wearing a Telekom ad on his body," Dresdner Bank's Chris-Oliver Schickentanz told Spiegel-Online news site.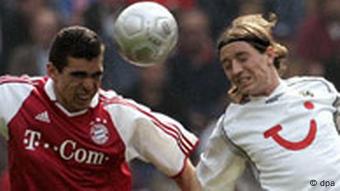 Mobile advertisements that jump, run and score
Battle of the broadcasters
But jerseys and logos are only the half of it. The sponsorship deal came about during the months of intense negotiations that ensued after the Bundesliga put broadcasting rights of all games up for bids.
Deutsche Telekom won the right to broadcast all Bundesliga games -- but only via broadband Internet, which should be available soon in Germany's 10 largest cities. Rights to the games on cable and satellite television, including public broadcasts in pubs and bars, went to pay broadcaster Arena. This was an upset to Premiere, the subscription broadcaster who had previously owned the television broadcasting rights to Bundesliga games.
The business of blunders
Premiere, however, picked up on a crucial loophole in this high-profile deal and tried to join forces with Deutsche Telekom to finally score a goal -- or at least a few euros. It doesn't take an IT expert to know that viewing Internet broadcasts on television has been possible for a while now, a point the Bundesliga apparently hadn't considered when they put the broadcasting rights up for sale.
The Bundesliga did recognize that Deutsche Telekom's right to Internet broadcasts technically included television, even though Arena had paid more than four times as much for the formal television rights. But in order to avoid any legal complications, the Bonn-based telecommunications giant decided to abdicate their implied television broadcasting rights, which they handed over to Premiere in an official agreement. The Bundesliga will give them a rebate on the original price for their "generosity."
Unfortunately for Premiere, the Munich-based station will only be able to broadcast to a small portion of their customers -- those with the appropriate broadband technology from Deutsche Telekom.
The Munich based subscription broadcaster will soon lose its exclusive rights to broadcast Bundesliga games live via cable and satellite
Winners and losers
Deutsche Telekom has plenty of reasons to cheer, but the Bundesliga also sees itself as a winner. Funds from the new sponsor can help "keep soccer at the highest level," said Bundesliga President Werner Hackmann, according to Reuters. "For the fan on the street, it's important to know where he can get what," he added. And Arena CEO Christoph Bellmer was pleased that it was finally clear to fans that live Bundesliga games via cable and satellite would be exclusively available from Arena.
Every game has a loser and Premiere got the short straw this time, but -- in spite of a 6 percent drop in stock on Wednesday -- they weren't letting that get them down. Even though their customer base for live Bundesliga games is restricted by the new technology, Premiere Director Georg Kofler's cup is half full. He told Spiegel-Online, "We're the pioneers yet again."