Human Rights Watch interviewed 45 asylum seekers and migrants from Afghanistan, Syria and Iraq, who described their experiences while traveling from Turkey to central Europe through Bulgaria last year.
"Bulgaria needs to end the abuse and unlawful treatment of people seeking protection in Europe," Lydia Gall, Balkans and Eastern Europe researcher at Human Rights Watch (HRW) said. "The Bulgarian government should immediately put a stop to summary returns, investigate allegations of abuse and pushbacks and hold those responsible to account," she added.
Violent pushbacks to Turkey
HRW's research revealed that 26 of the refugees interviewed had been beaten by police or bitten by police dogs. Nearly all were stripped of their possessions, sometimes at gunpoint by people wearing Bulgarian police uniforms and insignia.
Sinisha, a 22-year-old from Afghanistan, described an experience at the Serbian border. "We saw the police car and started running. We heard a kid screaming behind, turned around and saw the dog biting him. We stopped and saw how the dog dragged him about 15 meters, viciously biting him, he wouldn't let go … They took two mobiles, my money and new shoes … They brought us by police cars to the border and took wooden sticks and started hitting all of us and made us cross the border to Turkey."
Nasratullah, a 23-year-old also from Afghanistan, described a similar experience saying he was searched and the police took all the money they had. "After they took everything from us they left us with only clothes, put us in cars and took us to the Turkish border and made us cross," he told the rights group.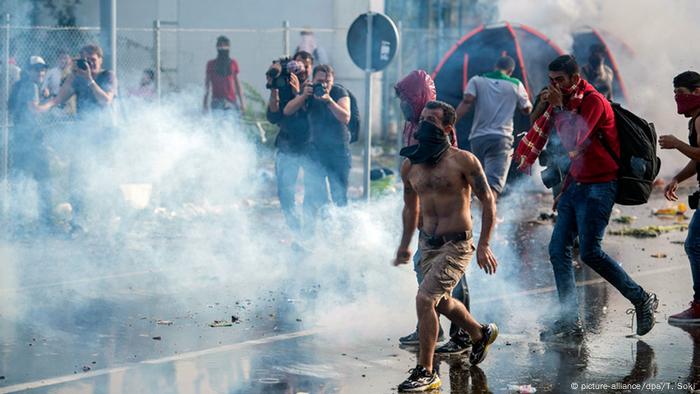 Last September, Hungarian police deployed tear gas to scatter refugees at the border to Serbia
Abuse in detention centers
Fourteen asylum seekers, including three underage refugees, described poor conditions in Bulgarian detention centers in Busmantsi and Elhovo. "The guards would yell, 'Why do you come to our country?' … The food was scarce, there was never enough to eat," 16-year-old Sina told researchers.
Similar complaints against Bulgaria are not new. Last November, the Belgrade Center for Human Rights, funded by Oxfam, also reported cases of beating and torture of refugees. Bulgaria's government, however, said abuse was not part of its policy and that it would investigate any sign of violence against refugees.
The European Commission opened proceedings against the country in September after it was found to have violated the qualification of international protection, which requires granting refuge to anyone who faces potential torture or inhuman treatment in his or her home country.
Returning refugees violates the 1951 Refugee Convention, the European Convention on Human Rights and the European Union Charter of Fundamental Rights, which guarantees right to asylum. Appropriating refugees' belongings also violates Bulgaria's domestic law.
More than one million refugees have entered the European Union in 2015, with around 30,000 entering Bulgaria illegally in 2015.