President Muhammadu Buhari has presented Nigeria's 2016 budget which triples investment spending in a bid to stimulate growth while seeking to lower the country's dependence on oil.
The budget totals 6.08 trillion naira ($30.8 billion, 28 billion euros).
The economy was in pain from the fall in oil prices, which averaged $122 a barrel in June 2014 but was now trading at around $39, Buhari told the National Assembly.
Nigeria relies on oil for about 90 percent of its foreign earnings and 75 percent of its budget.
"Consumption has declined at all levels," Buhari said.
He said employers have struggled to pay salaries and meet other employee-related obligations, both in the public and private sector. "Small business owners and traders have been particularly hard hit by this state of affairs," he said.
"From those who have lost their jobs, to those young people who have never had a job, to the people in the north-east whose families and businesses were destroyed by insurgents, this has been a difficult time in our nation's history," the Nigerian president said.
Spending on infrastructure
The biggest share of the budget would be invested in critical sectors such as power, housing, transport and defense.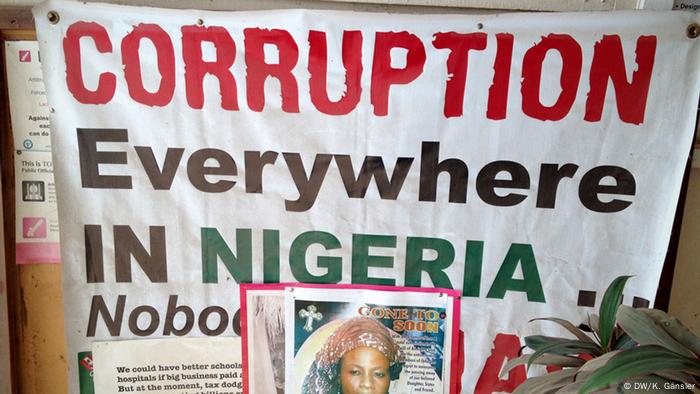 Tackling graft was one of President Buhari's election promises
Nigerians DW spoke to were cautiously optimistic. "Well, it's an achievement that the country is at least presenting a budget which will give us a picture of what will happen next year," one man said.
"What I really look forward to is security, real security, not temporary security," said one woman from northeastern Nigeria, which has borne the brunt of the Boko Haram insurgency. "I am also looking forward to seeing the end of fluctuating electricity," she added, referring to power outages.
Previous Nigerian budgets have tended to allocated more funds for recurrent expenditure, such as workers and officials salaries, rather than for capital outlay. In the 2016 budget, capital expenditure exceeds recurrent expenditure in a bid to press ahead with urgently needed improvements to infrastructure.
The budget foresees a deficit of 2.16 percent of GDP which would be financed by a combination of domestic and foreign borrowing.
"They are borrowing much more than in the past and are going to carry a bigger debt burden," Ayo Teriba, chief executive officer of Economic Associates, an advisors firm based in Lagos, told AFP.
The budget aims for a growth rate of 4.37 percent in 2016.
The International Monetary Fund has said that Nigeria's growth would slow to 4 percent this year, down from 6.3 percent last year.
Buhari also renewed his anti-corruption pledge to recover stolen funds no matter how long it took, or where they were hidden.
Ben Shemang contributed to this report from Abuja