Brusthom Ziamani was sentenced to 22 years in prison on Friday after judges in London found him guilty of plotting to kill a British soldier last year. The jury at the Central Criminal Court convicted Ziamani of preparing an act of terrorism.
Judge Timothy Pontius said he had no doubt the convict would have carried out the beheading had he not been stopped by east London police who found him carrying a 30 cm-long knife and a hammer wrapped in a black Islamic flag.
"Had the defendant not been arrested on August 19, then within hours at the most he would have used the hammer and knife to carry out the intention he had so clearly expressed … with the result that an act of horrifying savagery would again have been perpetrated on the streets of London," Pontius said in his sentencing remarks.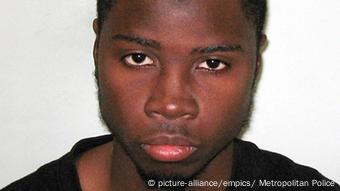 Ziamani was inspired by the murder of Lee Rigby
Ziamani, born to Jehovah's Witness parents, converted to Islam in early 2014. He then came under the influence of a radical group called al-Muhajiroun. His Facebook posts showed how he had completely absorbed the terrorists' "twisted interpretation" of the Holy Koran, judges said.
The 19-year-old also expressed his admiration for Michael Adebolajo and Michael Adebowale, British converts to Islam who killed soldier Lee Rigby by slamming a car into him in 2013. Hours before being stopped, he described Adebolajo as a "legend" to his former girlfriend.
Britain raised its terror threat level to "severe" last year in August, meaning that an attack was highly likely. Several people have been arrested since then and the radicalization of several young Muslims has been a topic of extensive public debate.
mg/sb (AP, Reuters)