Making the announcement via his Instagram account, Sheeran wrote he was "taking a break from [his] phone, emails and all social media for a while" - effective immediately.
The 24-year-old has just capped off a mammoth seventeen month, 179-show, world tour of his number one album X (pronounced multiply). In his post, Sheeran told fans that he has spent the good part of the past five years "looking through a screen and not his eyes."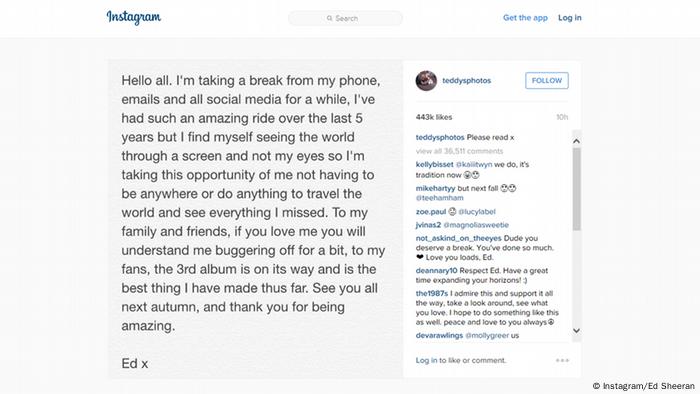 "I'm taking the opportunity of me not having to be anywhere…to travel the world and see everything I missed," the star said of what he was going to do during his self-imposed social media sabbatical.
The 2015 Grammy nominee used his message to fans to reveal he has a third album in the works, promising it would be "the best thing I have made thus far."
On the night before completing his X tour in Auckland, New Zealand on Saturday, Sheeran posted a tweet to fans saying he would be "buggering off" once his final show was over, but didn't provide any specifics.
The British singing sensation forged his career on social media, independently releasing his first recording in 2011 as a digital download. The hit "The A Team" entered the UK Singles Chart at number three, and went on to become a top 10 hit in Australia, Germany, Ireland, Japan, New Zealand Norway and the Netherlands.
In addition to his 16 million plus Twitter followers, Sheeran has 5.5 million followers on the photo-sharing service Instagram.
Sheeran has vowed to return to social media next (northern hemisphere) autumn.