A sonata formerly attributed to German composer Felix Mendelssohn, but that was in fact written by his sister, Fanny, is to be performed on Wednesday in London in a concert for International Women's Day dedicated to women composers who have suffered unjust neglect.
The work, entitled "Easter Sonata," was long thought to be lost, before being recorded in France in the 1970s as a work by Felix, whose fame has long overshadowed that of Fanny.
However, in 2010, an American scholar, Dr. Angela Mace Christian, tracked down the manuscript in a private archive in France and identified it as being by Fanny after an analysis of the handwriting and corrections.
Typical fate
Fanny, just 23 years old at the time, had mentioned the work in her private diary, writing that she had played it in a performance at home in April 1829. However, like most of her some 500 works, it never received public attention, with the composer subjugating her outstanding creative gifts to the roles of housewife and mother imposed on her by the society she lived in.
Wednesday's performance of the work, by pianist Sofya Gulyak, is to be broadcast on BBC Radio 3 from a lunchtime concert at the Royal College of Music.
A direct descendant of Fanny Mendelssohn, Sheila Hayman, is currently making a television documentary telling the story of the work.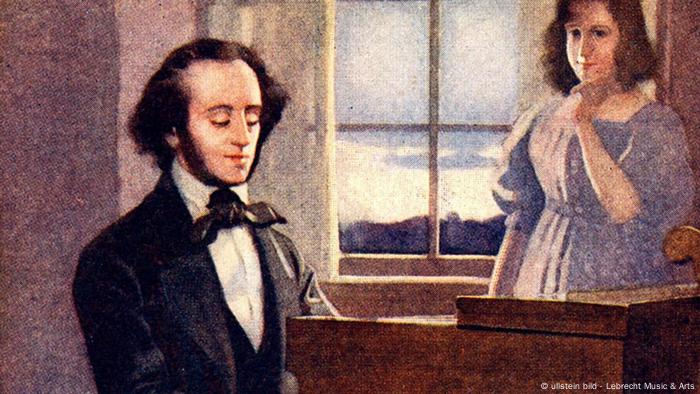 Scholars suspect that several works by Fanny are still credited to Felix
Brotherly encouragement?
Fanny, who was born in 1805 and took on the name Hensel after marrying painter Wilhelm Hensel in 1829, died in 1847 aged just 41.
Although Felix (1809-1847), who died less than six months later, supported her creative ambitions to a certain extent, he discouraged her from publishing her works, with several of her songs ending up being printed under his name.
In recent years, concert performances and a number of recordings have brought Fanny's works increasingly to the public's attention. Some modern scholars credit her with having preceded her brother in the writing of short character pieces for piano known as "Songs Without Words," a genre that her brother cultivated to a high pitch.