Michael Adebolajo, 29, and Michael Adebowale, 22, were convicted on Thursday of the murder of 25-year-old Fusilier Lee Rigby, who was hit by a car, then stabbed and nearly decapitated on May 22. The incident took place in front of horrified onlookers as Rigby [pictured above, shortly before his death] walked back to his barracks in Woolwich, southeast London.
Adebolajo and Adebowale, both Britons of Nigerian descent, said they acted as "soldiers of Allah" to avenge the deaths of Muslims abroad.
The judge told the jury that this claim did not amount to a proper defence in law.
Both men had pleaded not guilty to murder, but did not deny taking part in the attack.
Sought 'martyrdom'
The pair was cleared of attempting to murder a police officer. After the attack, both men waited at the scene, and charged a police car as it arrived a few minutes later, resulting in them being shot and wounded.
The men argued in their defense that they wanted to provoke police into shooting them so they "would achieve martyrdom."
Shortly after the attack, Adebolajo was filmed by a passer-by covered in blood and holding a cleaver and a knife. "An eye for an eye, and a tooth for a tooth," he is heard saying on the video.
In an interview played in court, he later told police that Rigby was targeted because "he was the soldier that was spotted first."
Adebowale refused to give evidence, and said though his defence lawyer he agreed with the defense given by Adebolajo.
Rise in Muslim hate attacks
The aftermath of Rigby's killing saw a rise in attacks on mosques and Islamic centers in Britain, and protests by far-right groups.
It also led to questions about the effectiveness of the British intelligence services, as both suspects had been known to them from earlier inquiries.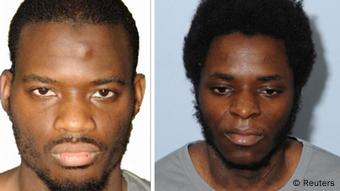 Michael Adebolajo (L) and Michael Adebowale (R)
Adebolajo, who comes from a Christian family and converted to Islam as a teenager, had been arrested in November 2010 near the Kenyan-Somalia border and eventually returned to Britain. Kenyan officials had said he intended to join an Islamic militant group in Somalia.
Sermons by US-born al Qaeda leader Anwar al-Awlaki, who was killed in a US drone strike in Yemen in 2011, were found at Adebolajo's father's house, as well as other extremist material.
Rigby's family said they were satisfied with the verdict. "This has been the toughest time of our lives," they said in a statement. "No one should have to go through what we have been through as a family."
The men will be sentenced after an appeal court ruling on whole life terms that is expected in January.
jr/ipj (dpa, AP, AFP)