Four "flying prosecutors" from the Crown Prosecution Service (CPS) will travel with 48 uniformed and 31 plain-clothed police officers to the tournament and will be on hand to collect evidence on offenders for use in UK courts while the host nation will set up courts that can expel English trouble-makers within 24 hours. It is hoped that the CPS prosecutors' evidence will lead to travel banning orders when the hooligans arrive back on British soil.
It will be the first time that members of the CPS will work alongside British police in a foreign country.
"The CPS will work closely with police and German prosecutors to collect good quality evidence to build good quality cases," Nick Hawkins, the CPS chief for soccer issues, said in a statement. "We will use evidence collected in Germany to make sure any English fans who cause trouble there will receive a football banning order when they return home."
"This initiative solves the legal complications which prevented action being taken against trouble makers returning from previous tournaments abroad."
Evidence gathered in Germany to be used to ban hooligans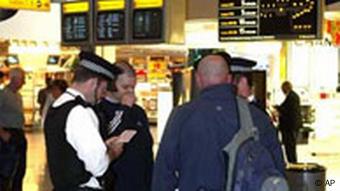 Information from Germany will lead to arrests back in Britain
Evidence collected by the CPS in Germany will be sent back to a network of specialist prosecutors in England and Wales. A change in legislation, under the Violent Crime Reduction Bill currently before the UK Parliament, will allow those specialist prosecutors to use the packages of evidence to apply for banning orders in English courts.
The proposals being considered will increase the maximum length of these banning orders from three years to five years and also give prosecutors the facility to appeal any decisions by magistrates to refuse their applications.
Suspects arriving back in Britain will be arrested and put before a CPS specialist prosecutor and even if they manage to avoid arrest at entry ports, the police and CPS in their home areas will now be able to arrest them and ban them from football after they have returned home, the CPS stated on its Web site.
British courts have already banned more than 3,200 people from traveling overseas to watch England play, and German authorities have agreed to help screen travelers at British ports from May 30.
"The objective is very clearly to radiate a message of zero tolerance of the kind of violence that has brought English football and its fans into disrepute," British Culture Secretary Tessa Jowell told reporters in London this week.
Police on high alert as organized violence fears heighten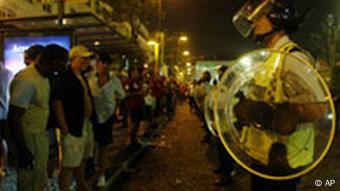 Police are on high alert for trouble at the World Cup
Fears of organized violence are growing as the World Cup gets nearer. According to a report in the Times of London this week, police in both Germany and the UK are concerned that fans are using text messages to arrange a confrontation at England's June 10 match against Paraguay in Frankfurt.
At the European Championships in Holland and Belgium in 2000, 800 people were arrested when supporters fought in Charleroi before the England-Germany game.
German police are also concerned about the threat of violence from supporters of the Dutch and Polish teams at the World Cup. Germany's Der Spiegel magazine reported in January that about 300,000 Polish fans will cross the border for the tournament.
Polish fans looking to achieve notoriety at World Cup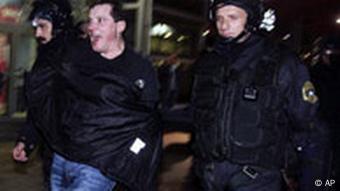 Polish hooligans want to make a name for themselves
Polish hooligans are aiming to cause mayhem and achieve a notoriety equal to that of the traditional sources of violence such as England and The Netherlands, the report said.
"The hooligans want to use the World Cup to show that they are just as dangerous as their English, Dutch or German counterparts. We must quite simply expect the worst," Jacek Purski from the Warsaw-based supporters' initiative Nigdy Wiecey (Never Again) told Der Spiegel.
A report in the magazine in December described how Polish and German hooligans took part in an organized 100-man mass brawl in a forest near the Polish border in East Germany.