There has been no independent confirmation of the Islamists' claim, but a statement released by the government of Mali said it had been doing everything possible to free the hostages.
"Mali did everything, everything. Unfortunately, he was killed in the end," an official of the Malian government told news agency AFP.
According to US-based monitoring group SITE, the Islamist group Al Qaeda in Islamic Maghreb (AQIM) posted an online statement saying it executed Dyer on May 31.
The announcement of the killing came as US President Barack Obama headed to the Middle East hoping to start mending American ties with the Islamic world in a speech that will tackle issues including extremist violence.
Britain condemns killing
The group had said it would kill Dyer if the British government refused to release radical Jordanian Muslim cleric Abu Qatada from a UK prison.
The British government said it had reason to believed Dyer had been killed and condemned the slaying.
"I utterly condemn this appalling and barbaric act of terrorism," British Prime Minister Gordon Brown said. "This tragedy reinforces our commitment to confront terrorism. It strengthens our determination never to concede to the demands of terrorists, nor to pay ransoms."
Lawless region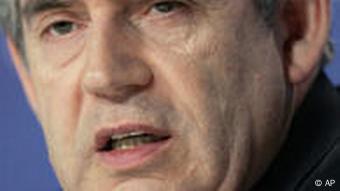 Britain's Prime Minister Gordon Brown has called the killing "barbaric"
Dyer was among a group of six Westerners kidnapped in December and January in the Sahel region. Of the six, two European women and two Canadian diplomats were released. The Islamists continue to hold Werner Greiner, a Swiss national.
"Together with all concerned parties and particularly with the close co-operation of Amadou Toumani Toure, President of Mali, the FDFA continues its efforts to set the last remaining hostage, a Swiss citizen, free," an official in the Swiss Foreign Ministry said in a statement.
The two Europeans and the Canadians were released after a ransom had been paid.
"It's all about the money," said Salima Tlemcani, an expert on security issues who writes for the Algerian newspaper El Watan.
Prisoner swap
Dyer had been detained by Abou Zeid, 43, also known as Abib Hammadou, a known Al Qaeda member, according to United Nations documents. In exchange for Dyer, he had demanded the release of Muslim cleric Abu Qatada, a Jordanian who is being held in Britain.
The kidnappers had initially demanded 10 million euros ($14 million) for the release of Dyer and Greiner and had set a deadline of May 21. In order to give British authorities more time, they extended the deadline to May 31.
av/Reuters/AFP
Editor: Sonia Phalnikar