The Sunday Times really got our hopes up over the weekend. A Brexit deal was imminent, the paper wrote. The European Union had given in to Prime Minister Theresa May's demands and was letting her stay in a sort of customs union in order to solve the vexed Irish border question. This is the last remaining unsolved issue in the negotiations. The quest is to avoid a hard border between EU member Ireland and the UK's Northern Ireland after Brexit and thus safeguard the Good Friday Agreement.
As diplomats have long feared, the problem turned out to be the most intractable of all Brexit issues. The EU had proposed that Northern Ireland stay close to its regulations, so there would be no need for border controls. The Unionist DUP, who support May's Conservatives in Parliament, howled with fury because the party could never ever accept a regulatory diversion from all-British rules. After many rounds of talks the two sides seemed to have found another possible solution. This would be to keep the entire UK in a customs union until the two sides had settled their future relationship.
What seemed reasonable has, however, now become impossible. At a Cabinet meeting on Tuesday, May was forced to declare she would not close a Brexit deal "at any cost." Clearly the cost is too high for her Brexiteers, who want at best a time limited customs union, or to be able to leave it at any time. No can do, says Dublin, because an insurance policy for our border with a time limit would not be worth the paper it's written on. We're starting from square one again.
Read more: 'Gruffalo' illustrator hopes for a miracle as Brexit looms
No new cabinet meeting has been scheduled. Ministers will come together again only after what the PM calls "the best deal for Britain" has been reached. The continued stalemate scuppers May's plan to get a deal done this week. That's needed to call an EU summit for the end of November and push the whole thing through Parliament before Christmas. As the EU's chief Brexit negotiator, Michel Barnier, likes to say: "The clock is ticking."
Secret talks are going on in Brussels. But they now appear ever more similar to Dante's inferno: Abandon all hope ye who enter here…
Put the demons back on the leash
Arron Banks is one of the bad boys of Brexit and the source of his money was always a mystery. He is one of those shady self-made millionaires with lots of offshore accounts. But in becoming the main donor of Brexit's Leave.EU Campaign to the tune of 8 million pounds (€10.3 million, $11.8 million) he attracted the limelight. And now the National Crime Agency is investigating Banks. According to British electoral law, only British money is allowed to influence a British referendum. And there are serious doubts about where Banks' money really comes from.
It is a game of smoke and mirrors. There is a Gibraltar-based company called Southern Rock which is supposedly the main underwriter of Banks' insurance business and technically insolvent. And there is a UK-based company called Rock Services that is supposed to have financed the Brexit donations. But it does not seem to have any money either. And one of Banks' collaborators explained that it was another entity called Rock Holdings domiciled on the Isle of Man that really channeled the money to the Leave campaign. This would obviously be illegal. It is a tangled web.
Read more: How a 'hard' Brexit might affect the arts and culture
More interesting, however, are allegations that the money did not come from Banks' accounts at all but from a third country, namely Russia. The entrepreneur got a prime slot on the BBC's Sunday Politics show where he denied that Russian money was involved in the Leave.EU campaign. Yes, there were meetings with the Russian ambassador and others but no Russian money played a role.
And finally the killer question: If he could go back in time how would he vote? His unexpected response: "The corruption I have seen in British politics, the sewer that exists and the disgraceful behavior of the government over what they are doing with Brexit and how they are selling out, means that … I think we would have been better to probably remain and not unleash these demons." This means Banks would have wasted his 8 million pounds, wherever they came from.
Boris Johnson's pants on fire….
When revelers on bonfire night drove a huge effigy of Boris Johnson through the town of Lewes there were cries of "burn him, burn him." He is evidently bringing out the more atavistic instincts of the normally peaceful populace of East Sussex. The Boris puppet was also seen holding the severed head of Theresa May. But if you listen to rumor, that image might be a thing of the past.
Boris has supposedly given up on becoming the next prime minister after realizing he has reached his radioactive half-life in politics. But the big beast of Brexit still has some life to him. And he rises up and roars as soon as the great free and unencumbered Brexit of his dreams appears to be threatened.
Read more: Brexit drags up Northern Ireland's dark past
When over the weekend speculation swirled that a Brexit deal might be close, BoJo took to the Daily Mail to vent his fury. May should reject this "stinker of a Brexit deal" he fumed. The proposed exit contract with the EU was a "Christmas present of the finest old Brussels fudge," forcing Britain to remain in a "nonsensical implementation period."
And then as always with Boris Johnson comes the descent into the ancient depths of history: "For the first time in a thousand years we will have to accept foreign made laws … We will be a vassal state, a colony …" and so on and so forth. A day later he added, still foaming at the mouth, a spoonful of "national humiliation" and "wholesale subjection" to the brew. How often has Boris now written the same article over and over again? And more interesting: Is somebody still paying him?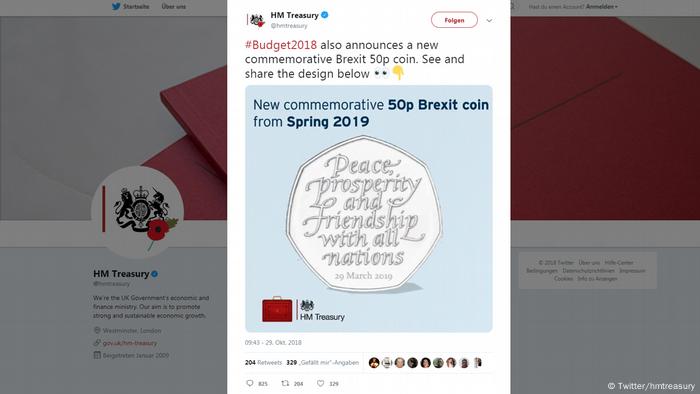 Satire becomes reality: A commemorative coin for Brexit
The Brexit memorial coin
It's a case of satire becoming reality. Her Majesty's Treasury published the design for a Brexit memorial coin to be issued next spring. Usually Royal jubilees and similar events are honored by numismatic special issues. Now Brexit seems to have reached the same lofty heights.
On the other hand, folks at the Treasury must have had second thoughts. They therefore chose the lowly 50 pence coin to immortalize Britain's exit from the EU. But the inscription is pure genius: "Peace, prosperity and friendship with all nations, 29 March 2019." Indeed, what else could Brexit mean for all of us?