President Dilma Rousseff made a last-ditch attempt to stall impeachment proceedings against her late on Tuesday.
In an appeal to Brazil's Supreme Court, Attorney General Eduardo Cardozo asked judges to annul the Senate vote, planned for Wednesday, based on the grounds that it was politically motivated and lacked a legal basis.
The court began considering the appeal barely 12 hours before the Senate was due to begin its debate on Rousseff's suspension from office.
Resignation 'never crossed my mind'
"I will not resign; that never crossed my mind," Rousseff said in a speech to a women's forum in the capital, Brasilia, earlier in the day. "I am going to fight with all my strength, using all means available."
Yet barring a completely unforeseen turn of events, Rousseff looks set to face the impeachment proceedings on Wednesday morning.
Accused of breaking budgetary laws, the president claims she is the victim of a plot to oust her concocted by her vice president, Michel Temer, whose center-right party broke with Rousseff's Workers' Party several months ago.
If more than half of Brazil's 79 senators able to vote on her fate decide against her, the president will automatically be suspended for half a year. It would also trigger a trial likely to last months.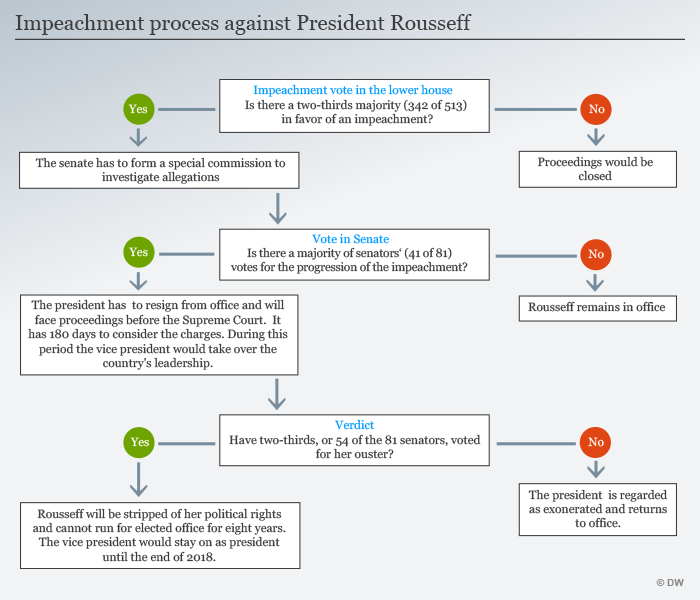 Meanwhile, hundreds of pro-Rousseff demonstrators barricaded roads and blocked streets across the country on Tuesday evening. In the capital, Brasilia, authorities set up a kilometer-long "impeachment wall" between the Brazilian congress and the city's cathedral to separate protesters who support Rousseff from those calling for her ouster.
es/cmk (AFP, Reuters)