The results of a recent study in Brazil couldn't be clearer: "Women who wear tight-fitting clothes deserve it when they are attacked," and "If women knew how to behave, there would be fewer rapes."
Those were comments a majority of Brazilians said they could identify with, according to a study published at the end of last month by the Brazilian Institute for Applied Economic Research (IPEA). The survey polled 3,810 people between the ages of 18 and 50 with 58.5 percent agreeing with the first statement and 65 percent with the second.
The study's results came as a shock to the public as well as the polling agency. "The results are frightening because they are based on an old patriarchal mentality," said Rafael Osorio, director of socio-scientific studies at IPEA.
First India, then Brazil
The statements Brazilians agreed with largely mirror similar comments made in India after a number of gang rapes were reported in the media. A video created by the satire group "All India Bakchod" addressing the brutal sex attacks titled "It's Your Fault," was clicked on 1.5 million times within the first week, a total that has now jumped to over 3.5 million clicks. In it, a woman cheerily describes all the ways women cause rape and reaches the conclusion "No women, no rape" before telling viewers to "Stop blaming the victim."
Brazilians were concerned by the pervasive belief that victims of rape and sexual assault are the cause of the crimes committed against them. "It is demotivating that despite significant progress when it comes to equality, patriarchal views are still widespread, " Osorio said.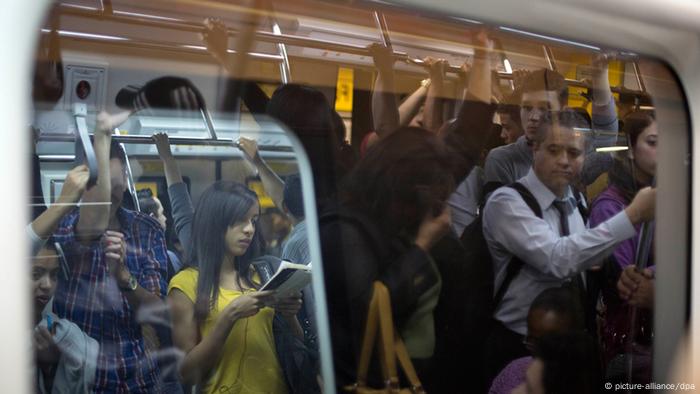 Crowded and anonymous, much harassment and abuse occurs in public transportation
The study also showed that 69 percent of those surveyed said men should be the head of the family. Paradoxically to the study's other findings, the survey said 91 percent of people agreed that men who hit women belong in prison.
Guilt - but not for the guilty
The state-run IPEA research institute estimated that there are 527,000 cases of rape in Brazil each year. But despite tightening laws regarding domestic violence in 2006, only a tenth of the cases are brought to the authorities' attention.
The majority of rapes take place in a domestic environment and, according to IPEA 70 percent of rape victims who filed charges were under 18 years old. The majority of perpetrators were either direct family members or acquaintances.
It's not just the recent IPEA study showing that an increasing number of Brazilians is playing down sexual violence - reports of abuse have also flooded social media networks in Brazil. Thousands of men have publicly condoned sexual assault and have even used the networks to organize meetings where the intent is to sexually attack women traveling on public transportation.
Subway attacks
"There have always been attacks in busses and trains, but now there are videos about it posted on the Internet to excite men and instigate sexual harassment," said Sonia Coelho of the NGO Sempreviva Organizacão Feminista. She said such a Facebook page with 12,000 fans was recently taken off the Internet.
Despite the increasing number of attacks, the number of sexual harassment charges filed with police in Sao Paulo is low. There were just 100 cases in 2013 and 29 in the first three months of 2014.
Unlike other Brazilian cities, such as Rio and Brasilia, Sao Paulo does not plan to introduce separate train subway cars for women. The city's subway system, which transports 7.4 million people daily, uses camera surveillance and undercover security personnel to protect passengers.
Coelho, however, said she was skeptical that separating male and female passengers would be of much use as it does not address the problem of rampant sexual abuse. "Pink train cars only separate the sexes," she said, adding that would do less to protect women than increase men's sense of machismo.