Police in the Brazilian state of Espirito Santo refused to end their week-long strike on Saturday despite their union reaching a deal with authorities and massive increases in violent crime.
Relatives of police, who are forbidden to strike, continued their blockade of barracks, even after the state government announced that the union had accepted a back-to-work agreement including higher pay and the dropping of charges against officers for illegally striking.
Gustavo Tenorio, a spokesman for the Espirito Santo Public Safety Department, said by telephone Saturday that the agreement was rejected by those manning the barricades and that the military police officers refused to return to work.
"We had reached an agreement last night with police associations that they return to work today, but that has not happened," Tenorio said. "We continue to work on this problem."
He said more than 700 police were facing possible charges of insurrection for refusing to leave their barracks, which could lead to prison time.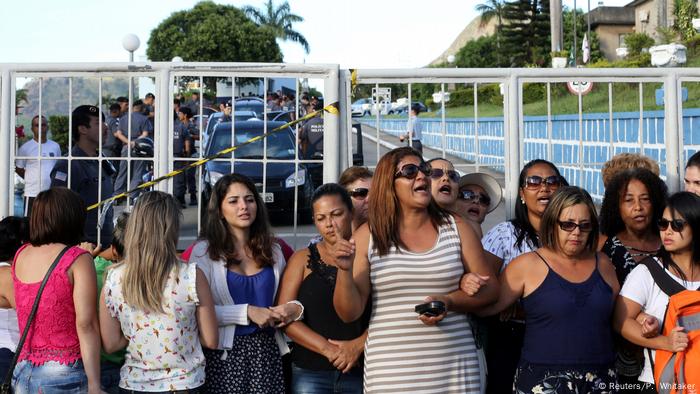 Family of police have barricaded police barracks to circumvent laws forbidding the officers from striking
Family members, who mounted the protest to circumvent strike laws, told news agency Reuters that no such agreement had been reached. They told local media that Friday's agreement was not legitimate because their representatives were not present at the negotiations.
"They cannot sign an agreement between them. This is a movement led by the wives of officers and none of us were there. The movement continues," the wife of a police officer told the G1 news site.
People murdered in the streets
The police union said Saturday that 137 people had been murdered in the state since last Saturday, a six-fold increase of the average homicide rate in 2016. Most of the violence centered in the poor regions of metropolitan Vitoria, the state capital, and state security agents said that most of the murders appear to be related to the drug trade or other crimes.
But Vitoria streets were calm on Saturday as thousands more soldiers and elite federal police arrived to bolster the initial deployment of 1,200 soldiers.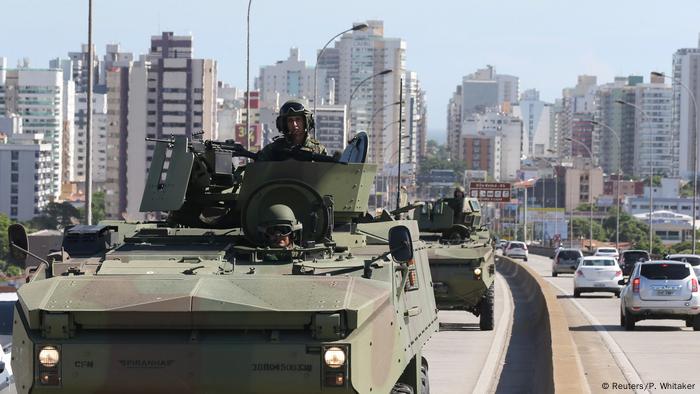 Thousands of soldiers were deployed in the state to restore law and order
Officials closed schools, clinics and public transportation, while shops and other businesses remained shuttered, causing over $30 million (28.1 million euros) in losses, a state retail association said.
President Michel Temer, who was publicly silent about the crisis all week, called the situation "unacceptable" on Friday and said that demonstrators "cannot hold the Brazilian people hostage."
On Friday, similar strikes erupted at some of Rio de Janeiro's police stations over unpaid wages, though spokesman Major Ivan Blaz told journalists that "95 percent" of officers were working as normal and that the state and city were secure.
The situation in Rio was calm Saturday morning.
Espirito Santo is one of several Brazilian states hit by a budget crisis that is crippling essential public services.
aw/jlw (Reuters, AFP, AP)