The agreement to help save the elephant was reached at the African Elephant Summit convened by the government of Botswana and the International Union for Conservation of Nature (IUCN) in Gaborone.
"Our window of opportunity to tackle the growing illegal ivory trade is closing and if we do not stem the tide, future generations will condemn our unwillingness to act," Botswana President Ian Khama told the meeting in the nation's capital.
The measures were agreed upon by key African elephant range states including Gabon, Kenya, Niger and Zambia and ivory transit states Vietnam, Philippines and Malaysia, and ivory destination states, including China and Thailand, said the IUCN in a statement.
Experts and officials from 30 states were involved in the summit, which the organisers described as "the first-ever meeting focusing on the dynamics of the entire ivory chain."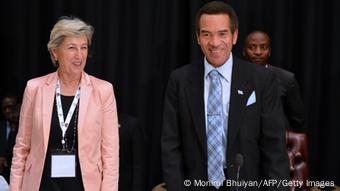 Botswana's President Ian Khama (right) stands with IUCN general director Julia Marton-Lefevre at the elephant summit
Catching criminals
There are 14 measures altogether. One involves classifying wildlife trafficking as a serious crime. Simon Stuart, chair of the IUCN's Species Survival Commission, told DW's Africalink show he believed this serious crime classification would be forthcoming and that it was of key importance.
"If it (wildlife trafficking) becomes classified as a serious crime under the United Nations, like the drugs trade or arms trade, then that means the countries in the United Nations have to cooperate much more in sharing information and intelligence," Stuart said. With more information, he added, "it is going to become much easier to catch the criminals."
Other measures agreed upon include engaging communities living with elephants in their conservation, strengthening national laws to secure maximum wildlife crime sentences, mobilizing financial and technical resources to combat wildlife crime and reducing demand for illegal ivory.
Poaching levels climbing
According to the IUCN, 2011 saw the highest levels of elephant poaching and the illegal ivory trade in at least 16 years, with around 25,000 elephants killed on the African continent. Preliminary data say even higher levels of illicit trade may be reached in 2013.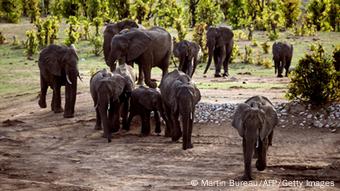 Countries that are home to elephants and those where the ivory ends up have agreed to "urgent measures"
Eighteen large scale seizures of more than 40 tons of ivory have been recorded so far this year, representing the greatest quantity of ivory confiscated in quarter of a century.
On Tuesday (03.12.2013) the Convention on International Trade in Endangered Species (CITES) said as much as 20 percent of Africa's elephants could be killed in the next ten years if illegal poaching continues at the same rate.
Stuart said a ban on trading wildlife products has been in force since 1989 but had failed to act as a deterrent. "We have to do things in addition to a ban and that includes strict punishment for those who are caught trading illegally in ivory or caught poaching elephants," he said.
There are currently half a million elephants in Africa, according to the IUCN. Botswana's Minister of Environment, Wildlife and Tourism, Tshekedi Khama, told the summit it was important "that we take ownership, because having elephants and wildlife is sustainable and it also gives livelihood to communities."