Deutsche Welle has obtained the certificate that Boris Becker's lawyer says confirms the former German tennis star was appointed by the Central African Republic (CAR) as an attache.
Becker has claimed diplomatic immunity in an attempt to avoid bankruptcy proceedings against him.
The document bears the signature of CAR's EU envoy, Daniel Emery Dede, who told DW last weekend that Becker had diplomatic status, owing to a diplomatic passport from the CAR for his role as attache for sports, culture and humanitarian affairs.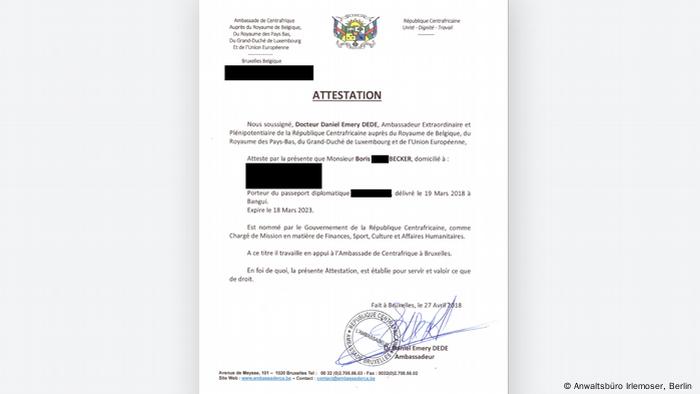 The certificate detailing Boris Becker as CAR attache
However, on Tuesday, CAR's Foreign Minister Charles Armel Doubane cast doubt over Becker's status by saying that the passport was a forgery , that the signature on it was not his, and that "the number belongs to a series that was stolen."
Then, Cherubin Moroubama, a top diplomat in the CAR Foreign Ministry, told the AFP news agency that the job profile on Becker's supposed passport, "financial charge de mission," does not exist.
However, the alleged proof of appointment provided by Becker's lawyer, Christian Oliver Moser, defines the 50-year-old's position as attache for sports, culture and humanitarian affairs, as well as finance.
The serial number, date of issue and expiration date on the certificate are also identical to those in the passport.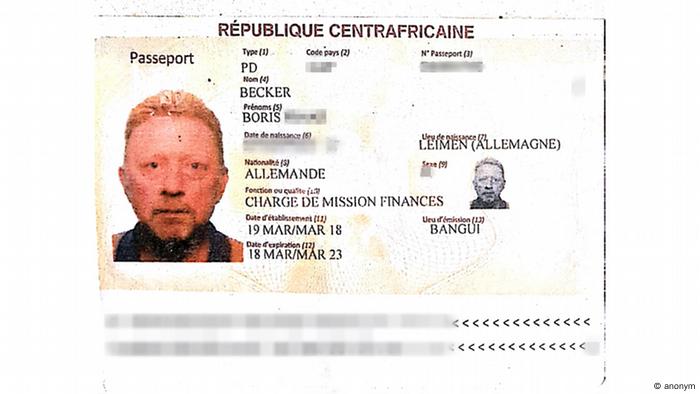 Boris Becker's alleged CAR passport, detailing his role as financial attache

Mystery in Bangui
As well as claiming Becker's passport was a fake, Doubane told DW that any diplomatic appointment must be made by the president with the CAR foreign minister's signature.
"The president has never requested my signature to sign such a document for Boris Becker," Doubane asserted. "Does Mr Becker have the qualities required of a CAR diplomat? And secondly, does he have the papers to prove he is a CAR diplomat. If he does, he should show those papers," he added.
The certificate of Becker's appointment only bears EU ambassador Dede's signature.
Read more: Opinion: Mr. Becker, Boris and us
However, Moser told DW that Becker was only in possession of the diplomatic passport for around two minutes before it was sent off to a consulate in Europe for a visa application.
"We therefore have no way of checking the accuracy of the Foreign Minister's statements," Moser said. "We do not even know whether the document that was handed to us even bears the Foreign Minister's signature. Or maybe the president can make an appointment by decree. Why would the ambassador tell DW that Mr. Becker has a diplomatic passport if that wasn't the case?"
Read more: Opinion: Boris Becker and the Germans - no happy end in sight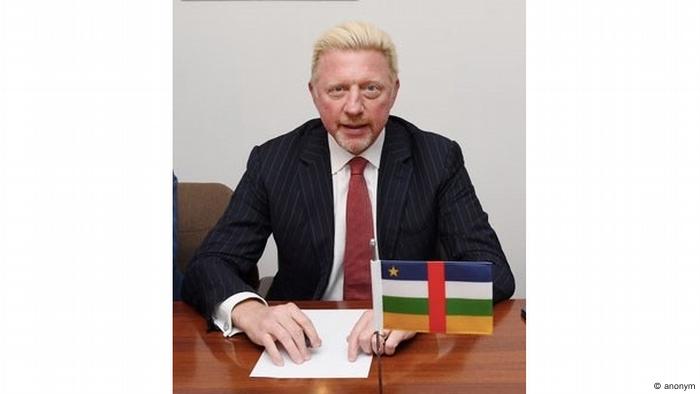 This picture of Becker was removed from the website for the CAR's EU embassy
Stolen passports?
Both Doubane and Moroubama claim the number on Becker's supposed CAR passport matches one from a batch of new passports that were stolen back in 2014.
According to DW's Eric Topona, the CAR administration was "pillaged" during the 2013-14 coup, leading to passports being sold "like bread rolls" on the black market.
"These passports, which have been robbed from the CAR, are continuing to be sold," said Topona, adding that Becker could be a victim.
Becker speaks
Becker spoke about the issue for the first time on Tuesday, telling Top Magazine that "it is a fact that I am currently a diplomat for the Central African Republic."
The former tennis player insisted that he had been handed the diplomatic passport by Dede in April.
Until last week, Becker was also listed on the website of CAR's embassy in Brussels. It even included a picture of him sitting a desk with the country's flag. The image has since been taken down.
Becker's legal issues
After declaring bankruptcy in June 2017, Becker was taken to court in London over debt allegedly owed to private bankers Arbuthnot Latham since 2015. A year later, the three-time Wimbledon champion is still being pursued for "further assets."
However, Moser revealed that Becker could no longer be prosecuted in London on account of his diplomatic immunity granted by his new position with CAR. Three days later, Dede supported Becker's claims to DW.
Former United Nations special rapporteur Ben Emmerson, whose former high profile clients include WikiLeaks founder Julian Assange, is handling Becker's case.