A lawyer for Albakr's family told German media his clients planned to launch legal action accusing Saxony's justice system of negligence in Albakr's death.
Leipzig-based lawyer Alexander Hübner told the Saturday edition of the daily "Süddeutsche Zeitung," along with public broadcasters NDR and WDR, that a court should decide if authorities had acted irresponsibly by leaving the Syrian man alone in his cell after his arrest. Hübner also said the circumstances of Albakr's suicide should be fully investigated.
Albakr was arrested on October 10, two days after he evaded police during a raid on his flat in the eastern German city of Chemnitz. The raid uncovered 1.5 kilograms of explosives.
Police had been monitoring the 22-year-old, believing he and other suspects were in contact with the "Islamic State" militant group and were in the advanced stages of planning an attack on a Berlin airport. Two days after his arrest, Albakr hanged himself in a Leipzig prison.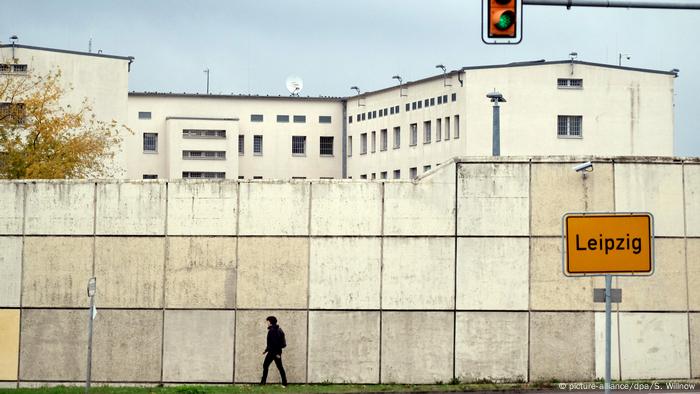 Al-Bakr was found dead in a Leipzig jail on October 12
'Low suicide risk'
Shortly after his death, prison officials admitted that the Syrian had not been judged to be a suicide risk, despite revelations that he had destroyed a ceiling lamp, forcing wardens to cut off the power supply to his cell. He also tried to tamper with power outlets.
At the time, Albakr's lawyer claimed the 22-year-old man, who was living in Germany as a refugee, had begun a hunger strike and had not been properly supervised. Prison officials said the terror suspect was checked every 30 minutes and later every hour after a full assessment of his needs.
Another Leipzig-based lawyer, Claudia Laube, has carried out a preliminary investigation into Albakr's death. The AFP news agency cited her as saying the family could be joint plaintiffs in his lawsuit.
Brother blames police
The dead suspect's brother Alaa Albakr said he doesn't believe Jaber killed himself, adding that suicide is forbidden in Islam.
"I'm really sure the police killed him," Alaa Albakr told "Die Welt" newspaper, although investigators say an autopsy has not established any evidence of foul play.
Germany's mass-market "Bild" newspaper reported Friday that Albakr wrote a message on the walls of his cell. The paper did not report what the Arabic message said.
Another missed chance?
Apart from accusations of bungling his arrest and remand, police in Saxony are facing renewed criticism after media reports suggested that they missed an opportunity to arrest Albakr in August. The suspect allegedly caused a fire at an apartment hotel in August when experimenting with chemicals for the production of explosives, before fleeing the building, the weekly news magazine "Der Spiegel" reported Saturday.
The blaze caused 6,000 euros worth of damage, and the hotel owner said police failed to realize the seriousness of the incident.
Germany's lower house of parliament, the Bundestag, has set up a committee to investigate the case.
mm/sms (AFP, dpa)